Tea Review – Story Of My Tea – Tea Subscription (China)
Company Name: Story Of My Tea
Teas: China Tea Subscription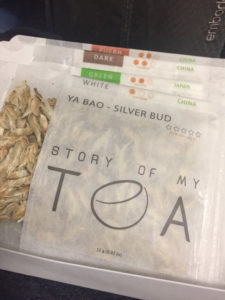 Tea Selection: Margaret's Soother
Interesting Highlights:
This tea is a bits n pieces tea with actual pieces. When I looked inside the bag I could see large pieces of clover.
Ingredients:
Peppermint (USA), Licorice (China) and Clove (Madagascar)
The Scent or Aroma:
There is no mistaking that this tea has mint in it, it is by far the most prevalent scent followed by the clover and licorice.
Review:
Here is what I like, difference! This tea stands out in being unique but not a tea that is thrown together, there was thought into what would "gel" with the peppermint. The tea warms you right up and the clove and licorice add a very nice "spice" to the tea. The licorice makes a final finish as this tea really warms up your sinus cavity and throat. I can only imagine how helpful this tea will be during the cold winter months as well as those scratchy throat days of summer.
Cost: Subscription as well as individual tea prices to be announced shortly!
*********************
Tea Selection: Ya Bao – Silver Bud
Interesting Highlights:
I'm always amazed and hope I continue to be amazed at the flavor in a single leaf or bud tea. Nothing added just a single bud picked and in this case considered a "bud treasure" it is sure to surprise you and make you smile with each sip.
Ingredients:
Silver Bud
The Scent or Aroma:
The scent of this tea is spicy almost like oregano with a slight pine scent as well. It smells like a forest!
Review:
I actually took this tea into my sons room for him to smell, because I kept getting the oregano spice, for me that is what it tasted like as well as the pine or woodsy flavor that finished smooth and fresh. This tea is a clear brew that is smooth and delightful. The buds float a bit so make sure when you brew you shower the buds with the tea water. There is also a bit of a sap flavor that is very different as well.
Cost: Subscription as well as individual tea prices to be announced shortly!.
*********************
Tea Selection: Iccha Kariban
Interesting Highlights:
The leaves are finely cut with a pea green liquor from the brew. There is a soft floral finish to this tea.
Ingredients:
Green tea (Japan)
The Scent or Aroma:
At first scent this tea is vegetal.
Review:
Again you have a single tea that has been processed and come out with a beautiful smooth floral green tea, it's really an amazing thing to be able to be able to drink of a tea processed this way. This tea does have a very slight bitterness to it with a bit of a bark/earthly flavor as well.
Cost: Subscription as well as individual tea prices to be announced shortly!
*********************
Tea Selection: Dark Rose
Interesting Highlights:
This tea is pressed into a heart shape and I've included pictures to show you part of the experience watching it brew, it's really interesting as it grows from the heart shape and the flavor is let out into the water to make a very nice smooth and strong rose flavor. Even my tea pet is curious about this tea.
Ingredients:
Black Tea (China)
The Scent or Aroma:
Right away you will smell the sweet floral scent of rose.
Review:
Fun to watch brew,
this tea has a medium liquor. It's a very smooth tea with a strong but not overpowering rose flavor. Delightful and reminds me of something from times past.
Cost: Subscription as well as individual tea prices to be announced shortly!
*********************
Tea Selection: Shou Pu'erh Tou Cha
Interesting Highlights:
The brew of this tea looks like a cup of very dark coffee. A very earthy somewhat moldy tea that gives a smokey finish.
Ingredients:
A 2013 Pu'erh
The Scent or Aroma:
The tea has. A slightly earthy and nutty scent.
Review:
This is a dark tea, I would suggest this tea for any coffee drinker out there because it has the look and strength of coffee but the amazing flavor of a dark smokey flavor. There is some flavor that would remind you of dirt of the playing field of dirt or mold. It's flavor is strong yet smooth.
Cost: Subscription as well as individual tea prices to be announced shortly!
Company highlights, notes and more:
Story of my tea will soon have a Kickstarter and I will be sharing that information with you so make sure to watch all of my social media as well as follow Story of my tea.
I also wanted to share with you THIS LINK
On ever package of tea you receive will be a code for you to scan and each code will take you to a similar page but related to the tea at hand. I'm so excited about what Story of My Tea has done and how they are sharing with us more then just a package of amazing tea, but the origins, how to prepare and more.
ABOUT STORY OF MY TEA
We believe tea is art and that every tea has its own story- A story of its origin, history, heritage and people; A story that inspires open-minded exploration; A story that makes the tea a little more personal than its taste and smell.
We came up with the idea of Story of My Tea when, out of our curiosity for tea, our goal is to help you:
Experience the best of tea from around the world
Discover the beauty, cultures and diversity of tea
Keep track of your tea exploration
Read more or visit their website: CLICK HERE
******************************************************************
I hope you all are enjoying and sharing our tea reviews. I love our tea loving community and as tea continues to grow and flourish so will our reviews. I plan on keeping us all informed on what is going on, what is new, what is bad and simply what is.
Please take a moment to sign up for our newsletter and follow us on Facebook, Twitter and Instagram. So much more to share and the newsletter gives us discounts, giveaways and tea companies inspirations. Don't be left out of our community. 
I've included an average brewing instruction chart below to help you brew your teas.
Like us? Love us? Want a certain tea reviewed?
SEND US YOUR COMMENTS!
(So serious, write to me and tell me what you are thinking, I honestly want to hear from everyone!)
******************************************************************
AVERAGE BREWING INSTRUCTIONS:
These are common instructions for brewing teas, however if the company suggests other brewing I will include it in the review section.
Time and Temperature Guide:
Tea      Temperature Minutes
Black      95°C / 205°F 3 – 5
Oolong/White 85°C / 185°F 3 – 4
Green/Yellow 80°C / 176°F 2 – 3
Herbal/Tisanes.         100°C / 212°F 5 – 15
** As always stated by My Tea Vault, we think you should enjoy tea the way you like it, I like mine very strong with no sweetener, these are just guidelines and I suggest you use the guideline then adjust for your own tastes.