Tea Review – Summer Sol Ambrosia – Nelson's Tea
Tea Selection: Summer Sol Ambrosia Black Tea
Name: Nelson's Tea
Location: Indianapolis, Ind.
Tea Company Comments taken from their webpage:
We started our operation as a husband and wife seeking a healthier lifestyle through a fun and healthy hobby. When friends and businesses developed an interest in our operation, we decided to take it to the next level. In our adventure, we have overcome many obstacles in sourcing, blending, labeling, and packaging. Because of our trials and errors, we have learned how to do it right! As a result, we are able to offer businesses concierge service by providing high quality, custom blended teas with the ability to label and package for you!   This allows one to be able to establish a brand without the headache of all that goes into the customization of doing so. It is also a great company gift option. Tea is unique, customizable, light weight, easy to ship and fun drink! Did we mention that it also provides a natural energy boost with a calming effect?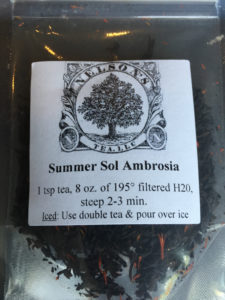 Personally:
First off this company has to love me ((((Hugs)))) sending me a few samples of different Earl Greys which happens to be my most favorite tea to review. I contacted Nelson Tea to see about reviewing their teas and they were happy to agree. Make sure you visit their site there is a lot of interesting teas going on there and information about the teas they provide.
Read more about Nelson's Teas on their website: HERE
BREWING INSTRUCTIONS:
These are common instructions for brewing teas, however if the company suggests other brewing I will include it in the review section.
Time and Temperature Guide:
Tea      Temperature Minutes
Black      95°C / 205°F 3 – 5
Oolong/White 85°C / 185°F 3 – 4
Green/Yellow 80°C / 176°F 2 – 3
Herbal/Tisanes.         100°C / 212°F 5 – 15
** As always stated by My Tea Vault, we think you should enjoy tea the way you like it, I like mine very strong with no sweetener, these are just guidelines and I suggest you use the guideline then adjust for your own tastes.
INGREDIENTS:
Black Tea
Safflower
Fruit Flavor
What the site has to say about their product:
Summer Sol tea is certainly delicious hot and exquisite over ice. The warm flavor of black tea and fruit mixed with the health benefits of safflower is will take you to heaven!
COSTS: $6.95-12.95
Price may vary according to the amount purchased.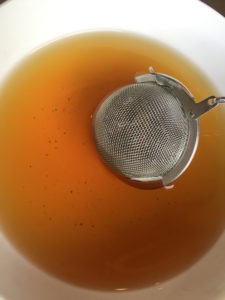 REVIEW
Brewed: I love a deep brewed tea, especially in the morning and this tea did the trick. A deeper liquor that is too please.
Scent: Yes, I smelled chocolate, there is no chocolate or cocoa listed but that is the scent I get when brewed.
Flavor: Now there is no chocolate flavor in this tea and I don't find that strange at all, it's the amazing qualities of tea and tea products. This is a slightly bitter tea with a fruit base that has undertones of grilled or charcoal flavor.
Sentiments: I love the magical qualities of tea, and this tea no doubt fits that cup perfectly. There is an absolute brewed scent of chocolate or cocoa, however there is none listed and none included so we can only add this to the mixture of ingredients as well as the location of the tea used. The taste is far from chocolate and more fruity, great notes of fruit and an almost burnt or charcoal backing to this tea. Loved the difference in both scent and taste! Always an honor to experience fine tea.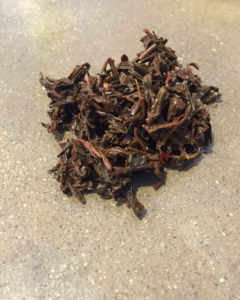 My Tea Vault score values of 1-10 (10 being the best): "7".
Till next sip…