Tea Review – Sweet Blackberry Leaf – Simpson and Vail
Tea Selection: SWEET BLACKBERRY LEAF
Company Name: Simpson & Vail
Location: Retail: Brookfield, CT.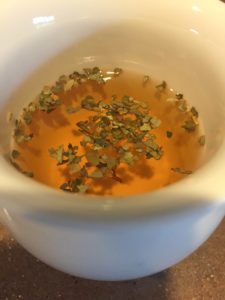 What Simpson & Vail says about themselves (taken from online source):
Simpson & Vail, Inc. is an old time tea company and was originally founded as a green coffee merchant in 1904 by Augustus M. Walbridge on Water Street in New York City as Augustus M. Walbridge, Inc.
In 1929, Mr. Walbridge sold the business to Mr. Simpson, the accountant, and
Mr.Lester Vail, the tea taster. Hence, a great business was born.
For years Simpson & Vail, Inc. was located In New York City on Water St., then Front St., then Park Place. Besides the location changes, the business grew and numerous phases occurred. From 1929 to 1962, bulk tea was the only product Simpson & Vail, Inc. carried. In 1962 roasted coffee and teabags were added. Late in 1978, Jim and Joan Harron purchased Simpson & Vail Inc., and in 1979, they added specialty food products and tea accessories as well as expanding the tea and coffee lines.
Read more about Simpson & Vail on their website: SIMPSON & VAIL
What Simpson & Vail says about this tea:
Rubus chingii var. suavissimus folium). Also known as Chinese sweet tea or Tencha in Japanese (Note: there is also a green tea called Tencha, although in Japanese the characters that refer to Tencha green and Tencha sweet "tea" are different). This sweet blackberry leaf is an herbal tisane that belongs to the rose family. The Rubus genus has many species, including blackberry, loganberry, raspberry and many more. This particular subspecies produces a leaf that is quite sweet, without the aftertaste that is sometimes associated with other sweet tisanes such as stevia leaf or licorice root. This traditional Chinese tisane is said to be over 100 times sweeter than cane sugar.
INGREDIENTS:
Sweet Blackberry Leaf
COSTS: $2.55 / 2 ounces
Price may vary according to the amount purchased.
MY REVIEW BEGINS
Here is what I think
Here I have to share how I came to know about Sweet Blackberry leaf. I was demonstrating tea at a local market when I met four amazing people from the community, we chatted about tea and travel and when asked if I knew about Sweet blackberry leaf I said no and they told me how sweet it is and you just add it to your tea. Hmm, I thought and started to investigate, I could find nothing and I was sure they had it confused with stevia. I asked some knowledgeable tea folks and they came up with the same idea. But then Renea from Simpson & Vail told me she had the Sweet Blackberry Leaf and sent me this sample to tell you about.
What I liked
I added this to a slightly bitter tea from The Chai Palace named Garden In bloom Chai (see review HERE). I added a slight amount then strained it, to my surprise it took away the slight bitterness and made the tea just a little bit sweet, it was not overpowering at all but just a nice sweetness, and it is 100% natural.
Next I tried this tisane with a more bitter tea.
What I did not like
I cannot find anything wrong with a natural product that does what it says it would do, I can also see this as being a tisane drink all on it's own as well.
Until next sip pinkies up and face the wind! You got this!
P.S. I've included an average brewing instruction chart belowto help you brew your teas.
AVERAGE BREWING INSTRUCTIONS:
These are common instructions for brewing teas, however if the company suggests other brewing I will include it in the review section.
Time and Temperature Guide:
Tea      Temperature Minutes
Black      95°C / 205°F 3 – 5
Oolong/White 85°C / 185°F 3 – 4
Green/Yellow 80°C / 176°F 2 – 3
Herbal/Tisanes.     100°C / 212°F 5 – 15
** As always stated by My Tea Vault, we think you should enjoy tea the way you like it, I like mine very strong with no sweetener, these are just guidelines and I suggest you use the guideline then adjust for your own tastes.
Like us? Love us? Want a certain tea reviewed?
SEND US YOUR COMMENTS!