Tea Review – Sweet Noting – Tealyra
Tea Selection: Sweet Nothing
Company Name: Tealyra
Location: Retail: Champlain, New York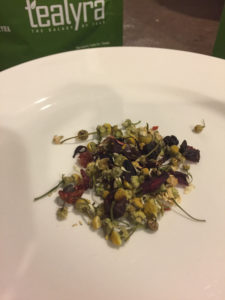 What Tealyra says about themselves (taken from online source):
We dreamt of a place that tea lovers, connoisseurs, and amateurs alike could come together to explore the world of tea. Inspired by pure passion and a respect for authenticity, Tealyra was born. We strive to be a company that will provide you with what you're looking for, help you learn something new, try something new, and discover something new about the second most consumed beverage in the world.
In 2010, Tealyra (Thelux LLC) was birthed out of admiration and absolute love for all things tea. We started by creating unique blends using the finest quality teas and ingredients, after trial and error, tasting and testing our blends were absolutely delectable! We believe tea brings people together, it can bring a moment of calm to your day when you need it, the health properties tea is known for, or a boost of energy during your midday slump… we are firm believers that herbs as medicine are not only powerful, but they also work!
We take pride in our high standard of quality; offering authentic true teas direct from origin, organic exclusives, a broad variety, and our own unique blends- created by innovation and the promise to deliver excellence in serving you our finest products.
We are a team of tea lovers! Our hands are matcha-stained; we drink tea, touch tea, talk tea and study tea- all day. From our founders, to those of us who pack your online orders and greet you at our store front location, we sincerely share your passion for tea and stand behind our product to offer you the best there is.
We thank you for choosing Tealyra, we are honored to serve you, and share our passion for tea and excellence with you!.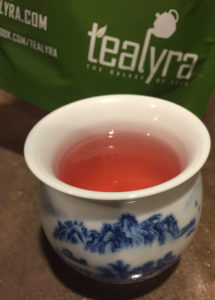 Read more about Tealyra on their website: HERE.
What Tealyra says about this tea:
Honey-sweet and aromatic chamomile, as yellow as the sun, with the addition of juicy, fresh orange, and sweet yellow mango! Chamomile is a classic calming herbal brew consumed for ages for its relaxing benefits, and here is a truly unique way to enjoy your chamomile! This isn't an overwhelmingly sweet or fruity blend, but the orange, and mango flavors compliment chamomile in the most natural and wonderful way! Once steeped, this floral herbal blend produces a light pink infusion, with flavors of gentle chamomile, sweet-tart citrus and mellow tropical mango.
INGREDIENTS:
Organic rosehips
organic hibiscus
organic chamomile
organic currants
organic schizandra berries
natural blueberry flavor
essential oils of orange
COSTS: $5.50 / 50 gram
Price may vary according to the amount purchased.
MY REVIEW BEGINS
Here is what I think
The mix of herbs, fruits and essential oils. This tea packs a great citrus wallop! From the time you open the bag to the last sip this tea has an amazing citrus (orange/apple) flavor. What you don't know is there are so many other
What I liked
From the time you open the bag to the last sip this tea has an amazing citrus (orange/apple) flavor. What you don't know is there are so many other ingredients working in your favor like the chamomile to calm you. It's not an overpowering tea, or very strong. It's just perfect and reminds me of a perfect fruit salad.
What I did not like
Great fun tea with a lot of effort and thought, there is nothing about this tea I dislike.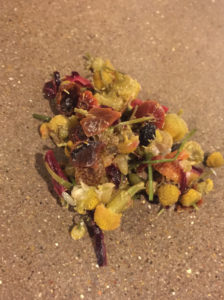 Until next sip pinkies up and face the wind! You got this!
P.S. I've included an average brewing instruction chart below to help you brew your teas.
AVERAGE BREWING INSTRUCTIONS:
These are common instructions for brewing teas, however if the company suggests other brewing I will include it in the review section.
Time and Temperature Guide:
Tea      Temperature Minutes
Black      95°C / 205°F 3 – 5
Oolong/White 85°C / 185°F 3 – 4
Green/Yellow 80°C / 176°F 2 – 3
Herbal/Tisanes.     100°C / 212°F 5 – 15
** As always stated by My Tea Vault, we think you should enjoy tea the way you like it, I like mine very strong with no sweetener, these are just guidelines and I suggest you use the guideline then adjust for your own tastes.
Like us? Love us? Want a certain tea reviewed?
SEND US YOUR COMMENTS