Tea Review – TasTea – Almond Cookie
Tea Selection: Almond Cookie
Company Name: Tas Tea Blends
Location: Matthews, NC
Tea Company Comments taken from their webpage:
Our goal is simple. To offer you a unique assortment of gourmet teas that will take your tea service to a whole new level. We only offer the highest quality teas, with a wide range of sensational flavors.
Inspired by the heritage of tea, and motivated by endless possibilities, we proudly present a lifestyle experience within the world of tea. Indulge, relax, and revive your senses with our unique and luscious flavors, or simply savor the quality of our classic blends. With each delicious blend, benefit from the powerful antioxidants and healthy attributes of our full leaf teas.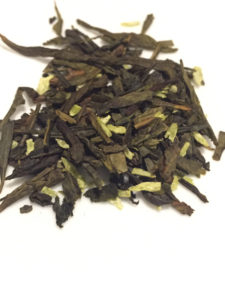 Personally:
I love tea and that's not an understatement! I love new and original and after tasting so many teas there is a line that is drawn between good, great and inspiring. I love inspiring teas, they have to be natural and they have to taste good, represent their name and taste like it. There is nothing wrong with a hearty tea as well with abundance of ingredients. TasTea introduces a fine line of unique teas that are not just thrown together but you can see the thought process that went into make the blends. I appreciate that and I think you will as well.
Read more about Tastea Blends on their website: Tastea Blends.
INGREDIENTS:
56% Green Tea
Green Yerba Mate
Coconut Shreds
Rose Petals
Cornflower blossoms
Almond flakes
COSTS: $13.00
Price may vary according to the amount purchased.
REVIEW
Prior to brew: I may be taking this section out because the prior to brew scent is and can be very mis-leading and one should never buy or disregard a tea according to the scent prior to brewing. Either way for now this is a sweet scent that smells like almond and coconut similar to that of an almond joy candy bar.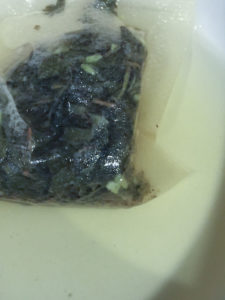 Brewed: Once brewed this tea is a very light Amber hue.
Scent: The scent is still very sweet with the coconut prevailing (because it was brewed and that flavors come out more).
Flavor: Very light flavor on the tongue and each sip just enhances the next. Slight bitterness from the green tea but the balance is good between herbs and teas.
Sentiments: This is a very light and refreshing tea, there is a very very slight bitter taste which will be from the green tea however the sweetness of the coconut and the almond make it a very light and delightful green tea.
My Tea Vault score values of 1-10 (10 being the best): "8".
Till next Tea….
Pinkies up