Tea Review – Tea Historic – Happy Herbivore, Signature and Dawn of Time
Company Name: Tea Historic
Teas: Happy Herbivore, Signature Blend and Dawn of Time
Tea Selection: Happy Herbivore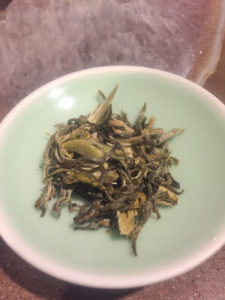 Interesting Highlights:
Here's a fun fact Tea Historic will only sell you teas they can verify what they are and where they are from. You can trust what teas you are getting. Tea Historic is serious to provide it's customers with only teas that are from two regions (read the about section) and that is so worthy of your time and business.
Ingredients:
Green tea, Tea Buds
The Scent or Aroma:
The scent of this tea is a very light vegetal scent.
Review:
I love that you can see this tea and the buds, this tea is hearty and has a warmth to it that warms the mouth and body. It has a slight aftertaste that carries over from the woody vegetal flavor. Happy Herbivore is a medium brew.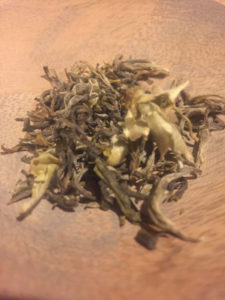 Cost: $7.00 / 28 grams / 1 oz.
Price may vary according to the amount purchased.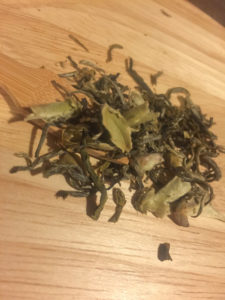 ********************************************************
Tea Selection: Signature Blend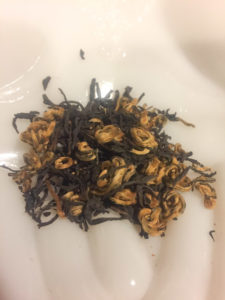 Interesting Highlights:
There is nothing like a signature blend, because if a company cares enough about a tea to give it "the house blend" or "signature blend" then that tea has to be memorable.
Ingredients:
Black Tea
The Scent or Aroma:
A very light and sweet aroma with a touch of nutty.
Review:
Dark brown brewed tea with a nutty flavor, it's a bit bitter AND smooth, how can that be? I'm not sure but it is. I love the rolled black leaf of this tea. There is something so electrifying of a true single leaf tea, the fact that it does not taste like the one before and that a piece of the area it was picked has made it to your cup… amazing!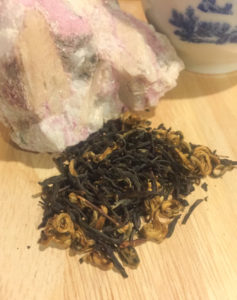 Cost: $7.00 / 28 grams/ 1 oz.
Price may vary according to the amount purchased.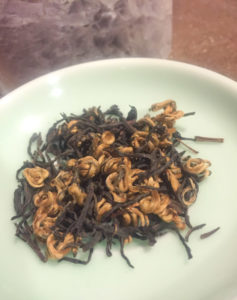 **********************************************************
Tea Selection: Dawn of Time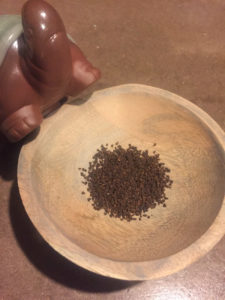 Interesting Highlights:
I found this tea interesting because it's not a loose leaf, in fact if you look at the tea it appears to be mechanically cut into tiny squares. That makes for a fast darker brew. This tea reminded me of a tea I had in London, a very brisk, dark bold yet mellow tea.
Ingredients:
Black Tea and Vanilla Beans
The Scent or Aroma:
Immediately you will smell the normal black tea aroma but that vanilla stands strong and it's flavor be known.
Review:
This is one dark tea both in the liquor as well as flavor, but as dark as it is the tea is still mild. There is an every so slight bitterness but it belongs. The tea looks like coffee, so dark but it's really very surprising and the vanilla flavor that makes it's presence known.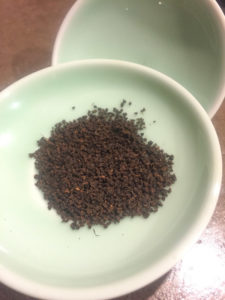 Cost: $5.00 / 28 grams / 1 oz.
Price may vary according to the amount purchased.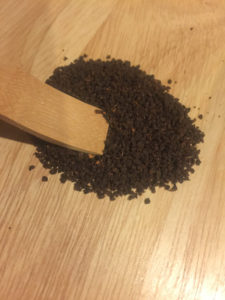 Company highlights, notes and more:
Well, aside from the obvious tea puns that can be made with so many dinosaur names, all tea comes from two main plants – camellia sinensis var. sinensis and camellia sinensis var. assamica. There are varietals of each and various processing methods that combine to make up the wonderful array of teas we have available to us to drink but these two are the base plants.
The fossil record showed that flowering plants were the dominant plants on earth 90 million years ago when dinosaurs still roamed. However, developments in 2013 in Switzerland show that flowering plants may have come into dominance as far back as when the first dinosaurs appeared in the Middle Triassic Period, 254 million years ago.
​In 1938, the first complete dinosaur skeleton in China was unearthed in Yunnan (it was a dilophosaurus). Dinosaur bones were discovered in India over 180 years ago before the term "dinosauria" had even been coined. This discovery was later called a titanosaurus.
​It is entirely possible that herbivorous dinosaurs in both regions may have snacked on ancestors to the same tea leaves we use!
​Thus, the focus of Tea-Historic teas is on the two regions where these two types of plants probably originated – Yunnan Province in China and Assam in India. Most of Tea-Historic's teas are from one of these two regions although other regions' teas will be added as I find excellent ones to share with you!
Read more or visit their website: CLICK HERE:
******************************************************************
I hope you all are enjoying and sharing our tea reviews. I love our tea loving community and as tea continues to grow and flourish so will our reviews. I plan on keeping us all informed on what is going on, what is new, what is bad and simply what is.
 Please take a moment to sign up for our newsletter and follow us on Facebook, Twitter and Instagram. So much more to share and the newsletter gives us discounts, giveaways and tea companies inspirations. Don't be left out of our community.
 I've included an average brewing instruction chart below to help you brew your teas.
Like us? Love us? Want a certain tea reviewed?
SEND US YOUR COMMENTS!
(So serious, write to me and tell me what you are thinking, I honestly want to hear from everyone!)
******************************************************************AVERAGE BREWING INSTRUCTIONS:
These are common instructions for brewing teas, however if the company suggests other brewing I will include it in the review section.
Time and Temperature Guide:
Tea      Temperature Minutes
Black      95°C / 205°F 3 – 5
Oolong/White 85°C / 185°F 3 – 4
Green/Yellow 80°C / 176°F 2 – 3
Herbal/Tisanes.         100°C / 212°F 5 – 15
** As always stated by My Tea Vault, we think you should enjoy tea the way you like it, I like mine very strong with no sweetener, these are just guidelines and I suggest you use the guideline then adjust for your own tastes.