Tea Review: Tea Pigs – Liquorice Peppermint
Tea Selection: Liquorice Peppermint
Company Name: Tea Pigs
Location: Brooklyn New York.
Founder(s): Nick and Louise (2006).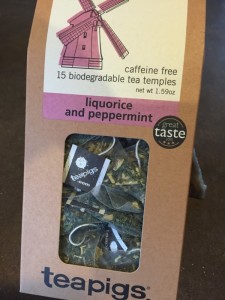 Tea Company Comments taken from their webpage:
We will only ever sell teas of the highest quality. We will never compromise on quality. It also means we sell only whole leaf tea from selected estates, which we supply either as loose leaf or in tea temples.
We love tea; we just don't like the snobbery that can come with it. Instead we concentrate on bringing you the very best tea we can find and not taking ourselves too seriously.
We don't want to intimidate you with a huge list of teas or bewilder you with a mass of information (although, of course, you can always ask us). We've handpicked a select range that offers you the chance to discover the wonderfully diverse world of tea.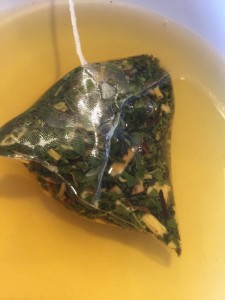 Personally: I ran into Tea Pigs on social media and contacted them about their tea. They were more then happy to send me a few samples to share with all of you. The name is interesting and so are the teas, they are unique and full of natural no filler ingredients which this tea lover, loves. This company was born out of two people that loved tea and worked for a major tea company for a long time, learning along the way. Their website has a ton of information about tea, tasting and the whole tea process take some time to go through it and learn more about the tea you and I love.
Read more about Tea Pigs on their website: Tea Pigs.
INGREDIENTS:
Liquorice Root
Peppermint
COSTS: $2.50 – $24.00
Price varies according to how much you purchase.
REVIEW
Prior to brew: When you open this tea and have no idea what it is you will soon figure it out. Very strong licorice scent.
Brewed: Once brewed this tea is a medium Amber shade with a bit of a surprising scent.
Scent: First scent once brewed is surprisingly vegetal with an undertone of mint.
Flavor: This is an absolutely sweet tea, you are going to swear it has sweetener in it however, none is listed.
Sentiments: I was excited about this tea, it's the first Licorice tea and it did not disappoint. This tea will cure a sweet tooth right away and the licorice is right there in the front. It's a strong tea on it's own but with the licorice and peppermint it will aid in digestive issues as well. I would not add sweetener to this tea it's good on it's own.
My Tea Vault score values of 1-10 (10 being the best): "9".
Till next Tea….
Pinkies up!