Tea Review – Tealightful – Moroccan Mint Green
Tea Selection: Moroccan Mint Green
Name: Tealightful Tea
Location: Various/Internet
Owner: Jacqueline Moser
Tea Company Comments taken from their catalog:
For years at Tealightful we have been sharing how passionate we are about our customer small batch tea blends and signature baking mixes. We have talked in length about how we create and what makes us unique! What we haven't shared is WHY we do what we do.
So, here is why…
OUR WHY
It's pretty simple really, it's about you!
At Tealightful we believe that the simple act of sipping tea can lift you up, help you feel energized and breath a little easier. We create tea blend that will inspire you to live in the moment and be your best self!
That last part really says it all! Find something in this catalog that will inspire you to sip, breath and be your best self.
You deserve it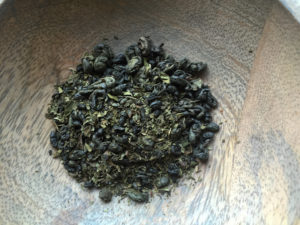 Personally:
I learned about Tealightful at the Midwest Tea Festival this year and was so glad she agreed to my sampling a few of her teas to tell you about them. I was thrilled to receive a booklet, informational material and best of all a very nice stack of recipes (I'll share a few with you in weeks to come). What Tealightful seems to be is a network marketing company that sells its products through those like Jacqueline who sign up to become a member. There are a ton of teas available from this company and it is most definitely worth a look, especially if you are looking for a nice combination to stir up your collection.
This does not take away from the company or the teas in the least and it an interesting concept within our tea community. The only issue I have with the company is a lack of ingredient listings on their site and in their booklet, listing "natural ingredients" when I'd like to know what those ingredients are. I am very sure however if you desired a full disclosure of ingredients that could be provided by just asking. I do believe however the packaging contains the information that would be needed for ingredients.
Read more about Tealigthful on their website: Tealightful
BREWING INSTRUCTIONS:
These are common instructions for brewing teas, however if the company suggests other brewing I will include it in the review section.
Time and Temperature Guide:
Tea      Temperature Minutes
Black      95°C / 205°F 3 – 5
Oolong/White 85°C / 185°F 3 – 4
Green/Yellow 80°C / 176°F 2 – 3
Herbal/Tisanes.         100°C / 212°F 5 – 15
** As always stated by My Tea Vault, we think you should enjoy tea the way you like it, I like mine very strong with no sweetener, these are just guidelines and I suggest you use the guideline then adjust for your own tastes.
INGREDIENTS:
Organic Gunpowder Green Tea
Organic Spearmint
Organic Peppermint leaf
What the site has to say: This refreshing blend is excellent hot or cold. It also makes a great base for Green Tea Mojito!
COSTS: $16.00 / 4 ounces
Price may vary according to the amount purchased.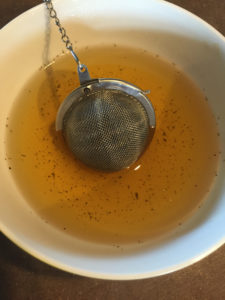 REVIEW
Brewed: Light liquor
Scent: Strong spearmint scent
Flavor: Slightly bitter with the mint accenting the green tea.
Sentiments: These unrolled leaves roll out and blend together with both the peppermint and spearmint herbs. This is a wake me up tea for sure as it warms your mouth and the powerful scent that opens your eyes wide!
My Tea Vault score values of 1-10 (10 being the best): "8".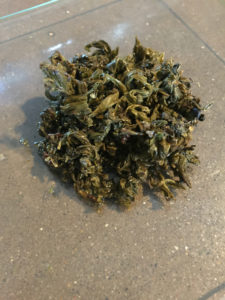 Till next sip…