Tea Review – Teasenz Tea Company
Company Name: Teasenz
Tea is amazing and so are the companies that provide it. Teasenz sent me a beautiful sample of their teas and tisanes and honestly two of them I have never had, one of which I never considered. Once I reviewed the teas I then looked up their value to not only my pallet but to my body and health. Surprisingly enough there is a lot to be said about the plants and products around us that unless we dig in and look, we may never know the beauty of what surrounds us. Thankfully Teasenz has done that for us and brought us a selection of teas not only noted for their Chinese heritage but for their health benefits to us.
TEA SELECTION: JASMINE SILVER NEEDLE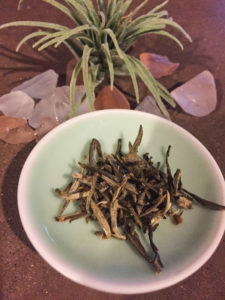 Interesting Highlights:
You will smell the sweet jasmine scent when you open the package, it's flavor will remind you of a Victorian tea party. It's a beautiful full silver needle leaf. Very delicate and beautiful.
Ingredients:
Super fine Silver Needle combined with exotic fragrance of Jasmine flowers.
The Scent or Aroma:
Jasmine, all the way. Sweet and floral
Review:
Once brewed this tea has a very slight vegetal scent but it's taste will take you far beyond that with it's sweet and subtle notes of jasmine. This tea is mellow and just flows with a sweet light mellow flavor. Enjoyable!
Cost: $14.95 / 70 grams
Price may vary according to the amount purchased.
********************************
TEA SELECTION: FOREVER YOUNG ROSE FLOWER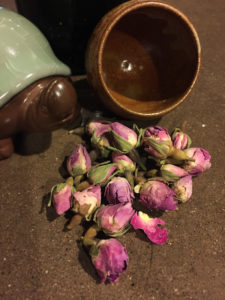 Interesting Highlights:
Seriously, these are full rose buds. What a surprise when I opened up the package and the smell is radiant. Soft and mellow rose that reminded me of my grandmothers perfume. This tea surprised me, I never expected it to be something that would have me looking for more.
Ingredients:
100% organic rosebuds
The Scent or Aroma:
Love the memories this tea brought back to me. The very aroma of this tea is that of a rose garden in full bloom.
Review:
I'll say it again, when I saw the rose buds I thought.. "and we drink this?" In fact while drinking I dropped in a couple rose buds and just drank it with them in there. It was enjoyable. Not at all overpowering but mellow and just guides you on a journey as you drink it.
From the website I also learned more about the Rose and where it was harvested and how it was prepared along with some healthful notions on the rose like it is very high in Vitamin C.
Cost: $10.95 / 70 grams
Price may vary according to the amount purchased.
********************************
TEA SELECTION: HIMALYAN BLACK TARTARY BUCKWHEAT (SOBA)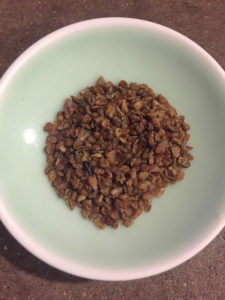 Interesting Highlights:
Now this one really took me by surprise.. buckwheat? But in reality it is not a buckwheat like we think of and the flavor is really unique and splendid. Caffeine free.
Ingredients:
100% natural buckwheat from Dallangshan
The Scent or Aroma:
A very earthy scent and somewhat malty and nutty.
Review:
I fell in love with this tisane. It's scent and flavor are unique and very enlightening. There is a bit of a body to this tea with an earthy flavor, yet mellow all the way around. This tea (from their website) is high in Vitamin B as well as Rutin. Tea can be as essential as we need it to be or just enjoy it but know when you are drinking a tea or tisane that is natural you are still getting something rewarding for your body inside of it.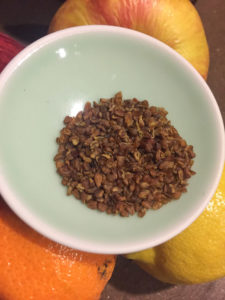 Cost: $8.95 / 70 grams
Price may vary according to the amount purchased.
********************************
TEA SELECTION: JASMINE DRAGON PEARLS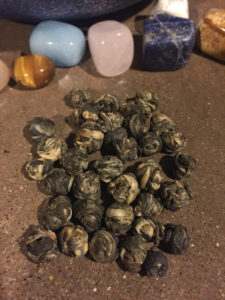 Interesting Highlights:
These hand rolled beauties give off the same scent at the Jasmine Silver needle but that changes once it is brewed. I love how these pearls come unraveled and I fete think of the work it went into the individual pearls that I am now consuming, I feel very thankful for their journey to cup and for the people that prepared it.
Ingredients:
Fujian Jasmine
The Scent or Aroma:
The aroma is much stronger then that of the Jasmine Silver needle, but that same soft sweet jasmine floral fragrance is noted here.
Review:
Love watching how lovely these leaves are. They do not take long to unravel and fill my cup with a lovely mellow tea with a. Semi-strong Jasmine flavor. Stronger yet still mellow.
Cost: $9.95 / 70 grams
Price may vary according to the amount purchased.
********************************
TEA SELECTION: ANXI TIE GUAN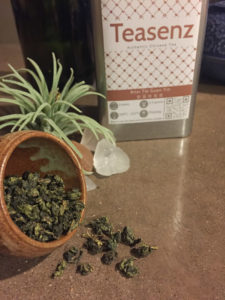 Interesting Highlights:
This tea came in a tin, very nice and I do hope you take the time to read about the teas your drink, from this site or any other, there is so much knowledge to what you are drinking and it's so good to know about your teas.
Ingredients:
Oolong tea
The Scent or Aroma:
Never go by the scent of a single origin tea, if you do you will retreat not trying it and 2 you will be amazed at the flavor of these teas, almost always NOTHING like the scent.
Review:
This tea smelled a bit musty on first scent and the leaves looks somewhat rolled yet squashed. This tea however had my heart on first sip, it's true lay sweet and floral and a very mellow tea. You will enjoy this and if it's your first single origin tea ENJOY the journey. It's been a pleasure!
Cost: $8.95 / 70 grams
Price may vary according to the amount purchased.
********************************
Company highlights, notes and more:
Once upon a time…
…a tree leaf fell in a cup of water and changed its flavor: tea was born. After its discovery, the tea culture flourished in China and spread all over the world. Very soon tea has become the second most consumed beverage internationally, right after water.
To us, Chinese tea is the most beautiful product that exists, due to its pure simplicity. Teasenz is founded by a group of overseas Chinese, who lived and studied abroad, but were not able to find tea they're used. If you like authentic tea, you shouldn't settle with lower quality either. Teasenz is the bridge between Chinese tea growers and business such as restaurants, cafes and hotels who want to present the best to their customers, as well as real tea enthusiasts.
Our purpose
Our purpose is to tell the world about Authentic tea and its fascinating culture. Tea used to be sipped slowly and appreciated for its diversity of flavors that differs every year and through season. The natural conditions of its origin and the processing method applied allow tea lovers to enjoy a limitless amount of flavors.
So what happened? People nowadays expect tea to be easily prepared and consumed quickly. And why does a tea bag always taste the same? Our goal is to tell the world about the beauty and diversity of authentic tea and its culture. The world of tea is a fascinating place to explore, and we welcome you to join us on our journey of tea..
Our vision
What's so mysterious about tea is that it connects tea drinkers sharing a pot of tea. We envision a world in which tea creates the opportunity to make more tea friends (Cha You – 茶友). And we extend this believe to how we interact with our Chinese tea growers and you. We're open to any questions you have about our product and/or service, and you'll never get a standardized email from us. We'll respond to you in the spirit of tea.
Read more or visit their website: CLICK HERE.
******************************************************************
I hope you all are enjoying and sharing our tea reviews. I love our tea loving community and as tea continues to grow and flourish so will our reviews. I plan on keeping us all informed on what is going on, what is new, what is bad and simply what is.
Please take a moment to sign up for our newsletter and follow us on Facebook, Twitter and Instagram. So much more to share and the newsletter gives us discounts, giveaways and tea companies inspirations. Don't be left out of our community.
I've included an average brewing instruction chart below to help you brew your teas.
Like us? Love us? Want a certain tea reviewed?
SEND US YOUR COMMENTS!
(So serious, write to me and tell me what you are thinking, I honestly want to hear from everyone!)
Don't forget to follow me and make sure you say Hello!
******************************************************************
AVERAGE BREWING INSTRUCTIONS:
These are common instructions for brewing teas, however if the company suggests other brewing I will include it in the review section.
Time and Temperature Guide:
Tea      Temperature Minutes
Black      95°C / 205°F 3 – 5
Oolong/White 85°C / 185°F 3 – 4
Green/Yellow 80°C / 176°F 2 – 3
Herbal/Tisanes.         100°C / 212°F 5 – 15
** As always stated by My Tea Vault, we think you should enjoy tea the way you like it, I like mine very strong with no sweetener, these are just guidelines and I suggest you use the guideline then adjust for your own tastes.