TEA REVIEW – TEAVIVRE – SUPERFINE DRAGON WELL, TIAN MU MAO, TIE GUAN YIN OOLONG, LA SHAN YUN WU AND LILY DRAGON BALL WHITE TEA
Company Name: TEAVIVRE
Tea Selection: ORGANIC SUPERFINE DRAGON WELL LONG JING GREEN TEA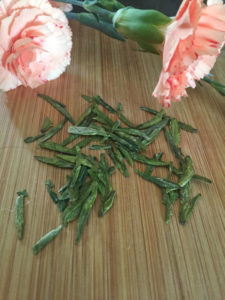 Interesting Highlights:
The tea leaves are very interesting in this tea (see pictures) long dry and green, beautiful looking tea.
Ingredients:
100% certified organic green tea traditionally handmade in Hangzhou
The Scent or Aroma:
Floral and Nutty
Review:
How beautiful are the leaves of this tea and to match is it's light refreshing floral taste with a nutty note to it. This is a delicate mild tea with a smooth demeanor.
Cost: $13.90 / 50g (1.75 oz)
*********************
Tea Selection: ORGANIC TIAN MU MAO FENG GREEN TEA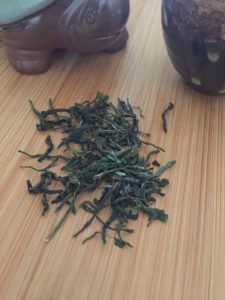 Interesting Highlights:
Beatuful dark twisted leaves. Lovely aftertaste that leaves an interesting note of earthy nuttiness (yes that is a word).
Ingredients:
100 % certified Superior organic green tea
The Scent or Aroma:
Light aroma with a nutty or woody aroma.
Review:
This lovely smooth tea with an interesting aftertaste (not in a bad way at all) but leaving you with an interesting nutty note. This tea is a very light liquor full bodied. You know you have had an interesting cup of tea with the way this tea develops from brew to finish.
Cost: $11.90/ 100Gg (3.5 oz)
*********************
Tea Selection: ORGANIC TIE GUAN YIN OOLONG TEA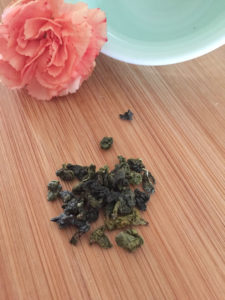 Interesting Highlights:
Lovely rolled leaves that unravel as they make this delicious oolong for you.
Ingredients:
Entry level Oolong
The Scent or Aroma:
Sweet aroma with floral notes.
Review:
Medium bodied tea with a strong floral taste and a subtle sweetness as a follow. It's a light liquor with a mellow body. Sometimes I allow the drink to cool and keep sipping away, this tea takes on a stronger flavor and a slight bitter edge to it, still with the sweet floral notes it had while first brewed. Would it make a good iced tea? Probably not but it's fun to experiment.
Cost: $12.90 / 50g (1.75 oz)
*********************
Tea Selection: LA SHAN YUN WU GREEN TEA
Interesting Highlights:
Very light liquor with a vegetal scent and a sweet taste
Ingredients:
Green Tea named after the Lushan Mountains in Jiangxi where the tea originates.
The Scent or Aroma:
A vegetal sweet aroma
Review:
Such a light brew with an enormous flavor, it will surprise you. It's a mild tea yet a lot of flavor happening with it. Slight vegetal taste with floral and honey notes. Mellow and smooth with a slight bitterness to it, delightful.
Cost: $16.90 / 100g (3.5 oz)
*********************
Tea Selection: LILY DRAGON BALL WHITE TEA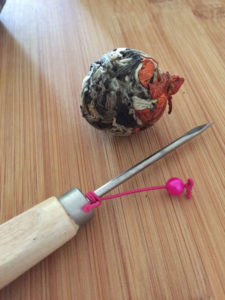 Interesting Highlights:
This is an interesting tea and I love that the ball is not wrapped so tight you have to fight with it to get the tea separated.
Ingredients:
One leaf w/ one bud white tea
The Scent or Aroma:
A sweet and malty scent.
Review:
This was a fun tea to experiment with, it's a medium bodied tea with a sweet and malty note. The liquor is an amber color but you can brew it longer or less to get the right flavor for you. Some of us more serious tea drinkers love a strong tea. I love a sweet tea that has no sweetener in it.   This tea is unique and very flavorful and not a typical white tea. I love the notes that seem to effortlessly float to the surface with each sip. Great tea, awesome gift for someone that loves tea.
Cost: 12.90 / 100g (3.5 oz)
Company highlights, notes and more:
TeaVivre is a group of tea lovers and aficionados from China, Canada and France, who all share a passion for drinking great tea and appreciate the healthy life style it brings.  With all of us living in China, we frequently travel through the country visiting China's tea plantations so we can track down only truly exceptional teas.  As a result we are able to bring to you – and us – the absolute highest quality Chinese teas that are, wherever possible, 100% organically grown and produced.
TeaVivre pronounce as [ti:'vivrə] , composed by tea and vivre. Vivre means "living" or "life", it firstly comes from French phrase "Joie de vivre", means "joy of living"or "enjoyment of life". We wish to share our love of tea with everybody.
Chinese tea culture presents the idea that life is a process of seeking and creating, but not of enjoying luxury. We love teas. We learn them, taste them, appreciate them, understand them, let them be a part of our lives. Plenty of producing area lie in the land of China. Some of them are renowned, while some are less noted. We explore stories of them all, seek for theory of life, and share with our tea lovers. TeaVivre aspires for creating a famous and excellent brand of Chinese tea. To reach our goal, we know clearly of the requirements: long-term persistence of endeavor, adequate patience and 100% passion. We will persist in our dream of Chinese tea. Let's share the gift of the great nature together, enjoy the brew.
Our business ethic is one of honesty and trust, where the relationship and satisfaction of both our customers and our suppliers is our guiding principle.  Our regular trips allow us to not just find the best teas, but also visit our supplier's farms to personally verify their growing and production methods and techniques.
In order to guarantee the freshness and quality of the tea we sell, TeaVivre only buys tea directly from the tea producers who have a proven track record in producing top quality teas using organic, traditional methods.
In the last few years, China's tea producers – and drinkers – have realized the taste, quality, health and environmental benefits of producing tea organically and so have introduced organic production on a large scale.  As a result TeaVivre offers you a range of organic teas from several different provinces in China.  We thoroughly check to make sure that our organic teas have been verified as organic by recognized independent international organizations.  To insure that our teas are good for both your health and for the environment, we consider pesticide problems as the foremost criterion of selecting a tea, and all our teas that meet the European low pesticide residues standard are analyzed with Quality Safety Testing Reports.Read more or visit their website: CLICK HERE: 
******************************************************************
I hope you all are enjoying and sharing our tea reviews. I love our tea loving community and as tea continues to grow and flourish so will our reviews. I plan on keeping us all informed on what is going on, what is new, what is bad and simply what is.
Please take a moment to sign up for our newsletter and follow us on Facebook, Twitter and Instagram. So much more to share and the newsletter gives us discounts, giveaways and tea companies inspirations. Don't be left out of our community.
I've included an average brewing instruction chart below to help you brew your teas.
Like us? Love us? Want a certain tea reviewed?
SEND US YOUR COMMENTS!
(So serious, write to me and tell me what you are thinking, I honestly want to hear from everyone!)
*************************************************AVERAGE BREWING INSTRUCTIONS:
These are common instructions for brewing teas, however if the company suggests other brewing I will include it in the review section.
Time and Temperature Guide:
Tea      Temperature Minutes
Black      95°C / 205°F 3 – 5
Oolong/White 85°C / 185°F 3 – 4
Green/Yellow 80°C / 176°F 2 – 3
Herbal/Tisanes.         100°C / 212°F 5 – 15
** As always stated by My Tea Vault, we think you should enjoy tea the way you like it, I like mine very strong with no sweetener, these are just guidelines and I suggest you use the guideline then adjust for your own tastes.