Tea Review – Veggie Sensations Part 1
Company Name: Veggie Sensations
I love to receive new teas in the mail and I love to let you know about them. Veggie Sensations sent me a few of their teas to review. One thing about Veggie Sensations is that they do not only sell tea and their product line has some really interesting items in it for those of us that love to "play around" in the kitchen. So take a look at Veggie Sensations and all their wonderful products including their teas, coffee, juicers and other kitchen products.
TEA Selection: Blue Eye Tisane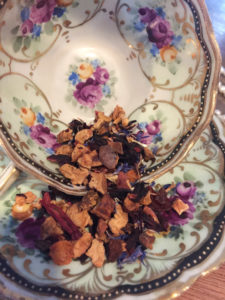 Interesting Highlights:
I love the fact that they call this a Tisane, because it is! Tisane is the name given to a product we brew to drink but has no actual tea in it. Very impressed with this fact.
Ingredients:
Oranges, Apples, Rosehips and Hibiscus leaves
The Scent or Aroma:
You will know right away that this is a fruit tea, the scent is an obvious citrus scent and you can see by the nice size pieces of fruit to what you will be tasting.
Review:
A wonderful citrus tea with a slightly sour taste (I taste all my teas without adding any sweetener). This reminded me of an organic or natural non alcoholic Sangria mix. It's sharp and spot on as a citrus wake me up tea. Great for a morning or afternoon tea and a great tea to share at a party.
Cost: $10.25 / 1/2 pound
Price may vary according to the amount purchased.
********************************
TEA Selection: Darjeeling Finest Tippy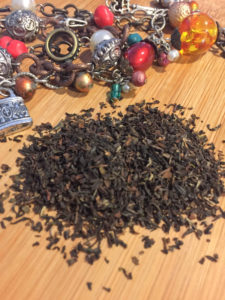 Interesting Highlights:
When anyone says full-bodied I think of coffee, yet this tea is a very full bodied dark brew that would satisfy the best coffee drinker and avid tea drinker.
Ingredients:
100% India Darjeeling
The Scent or Aroma:
When I first opened the pouch I got the scent of bark, a rich fresh scent of a tree bark in a forest. The Fresh scent of a recently plowed field once brewed, take one deep breath in and it will relax your entire body on exhale.
Review:
I love a strong tea and this tea was strong. I am always surprised by the factors that play into a pure single origin tea. The Darjeeling is known for it's full body flavor and this tea brings with it a rich dark brew that plays right into an afternoon tea pick me up.
Cost: $7.99 / 1/2 pound
Price may vary according to the amount purchased.
********************************
TEA Selection: Formosa Oolong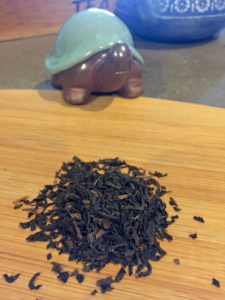 Interesting Highlights:
When I first opened the pouch I smelt a very familiar tobacco scent, the scent threw me as I have only smelled it one other time with a tea.
The Scent or Aroma:
The scent as mentioned above was of a tobacco or burnt scent, it was light and definitely in the background of this tea but it really stuck out.
Review:
Let's move beyond that tobacco scent, which is not a negative at all, it's what I smelled and honestly it is what I tasted in a mild way. A part of me wondered if someone had been smoking while preparing the tea. Again, it's not a horrible taste but it's there in the background. The tea is a very dark tea with a slightly bitter and slight aftertaste. You could say this tea finished with a burnt flavor.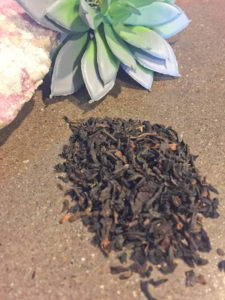 Cost: $13.99/ 1/2 pound
Price may vary according to the amount purchased.
********************************
TEA Selection: Green Sencha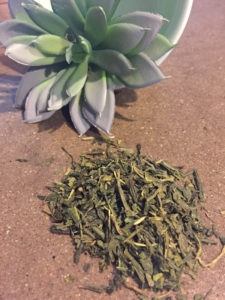 Interesting Highlights:
A mellow and light tea with the scent of fresh cut grass
Ingredients:
Japanese Sencha
The Scent or Aroma:
A green vegetal brew with the aroma of fresh cut grass, once brewed this tea is not vegetal at all but a mild woodsy (think bark) brew.
Review:
I love when a tea tastes nothing like it smells and this is one of those teas. At first scent you will think.. another vegetal tea but once brewed this tea takes on an amazing woody almost meadow like flavor, the light brew is also indicative on a Sencha.
Cost: $12.99 / 1/2 pound
Price may vary according to the amount purchased.
********************************
Company highlights, notes and more:
VeggieSensations was established in 2005 and has grown to be a thriving business because we understand that you, the customer, is why we are in business.
Our goal is your satisfaction. We strive to inform you, to the best of our ability, about the products we sell so you can make a wise decision before making your purchase.
Our commitment is to provide you with high quality products at as low a price as we can for your daily food preparation needs.
We are also doing our part to reduce our foot print on earth. We do not have a paper catalog, thus consuming less paper products. Our product can be found on our website and some are on Amazon.com.
In our personal lives we strive to leave as small of a foot print on this earth as possible. We had been heated our water with solar energy from 1984 up until it leaked in 2014. In 2007 we added solar panels to our home which produces more electricity than we need in a year. We also grow organic vegetables in our garden here in California. In 2014 we began to grow excess vegetables for a local church program called Fresh to Families. This program provides the homeless and working poor in our town used clothing, canned and dried foods and as of 2014 fresh fruits and vegetables.
Read more or visit their website: CLICK HERE.
For Part II of these reviews go HERE
******************************************************************
I hope you all are enjoying and sharing our tea reviews. I love our tea loving community and as tea continues to grow and flourish so will our reviews. I plan on keeping us all informed on what is going on, what is new, what is bad and simply what is.
Please take a moment to sign up for our newsletter and follow us on Facebook, Twitter and Instagram. So much more to share and the newsletter gives us discounts, giveaways and tea companies inspirations. Don't be left out of our community.
I've included an average brewing instruction chart below to help you brew your teas.
Like us? Love us? Want a certain tea reviewed?
SEND US YOUR COMMENTS!
(So serious, write to me and tell me what you are thinking, I honestly want to hear from everyone!)
Don't forget to follow me and make sure you say Hello!
*********************************************
AVERAGE BREWING INSTRUCTIONS:
These are common instructions for brewing teas, however if the company suggests other brewing I will include it in the review section.
Time and Temperature Guide:
Tea      Temperature Minutes
Black      95°C / 205°F 3 – 5
Oolong/White 85°C / 185°F 3 – 4
Green/Yellow 80°C / 176°F 2 – 3
Herbal/Tisanes.         100°C / 212°F 5 – 15
** As always stated by My Tea Vault, we think you should enjoy tea the way you like it, I like mine very strong with no sweetener, these are just guidelines and I suggest you use the guideline then adjust for your own tastes.