Tea Review – Wild Chicory Joe – The Tea Spot
Tea Selection: Wild Chicory Joe
Name: The Tea Spot
Location: Bolder, Colorado
Owner: Maria Uspenski
Tea Company Comments taken from their webpage:
The Tea Spot is a leading producer of handcrafted whole leaf teas and the creator of Steepware®—innovative teawares that make healthy tea effortless and accessible. The company was founded in 2004 by Maria Uspenski, a cancer survivor drawn to the health benefits of whole leaf tea during her recovery. Her message is simple and powerful: tea in its freshest form renders premium flavor and unmatched health benefits. With a steadfast mission to foster health and wellness through tea, The Tea Spot donates ten percent of all sales in-kind to cancer and community wellness programs. To date, they have supported over 100 organizations and touched more than 10,000 lives. The Tea Spot is a Colorado-based Certified B Corp, woman-owned and operated philanthropic business.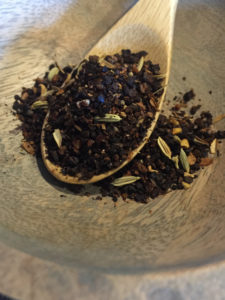 Personally:
Tea spot is a company that I found through the Internet and when I saw that it was woman owned and proceeds go towards charities I was thrilled to be able to sample a couple of their teas and tell you about them. Their unique company along with their products of tea and tea brewing, ceremonial and drinking make this company well rounded.
Read more about The Tea Spot on their website HERE
BREWING INSTRUCTIONS:
These are common instructions for brewing teas, however if the company suggests other brewing I will include it in the review section.
Time and Temperature Guide:
Tea      Temperature Minutes
Black      95°C / 205°F 3 – 5
Oolong/White 85°C / 185°F 3 – 4
Green/Yellow 80°C / 176°F 2 – 3
Herbal/Tisanes.         100°C / 212°F 5 – 15
** As always stated by My Tea Vault, we think you should enjoy tea the way you like it, I like mine very strong with no sweetener, these are just guidelines and I suggest you use the guideline then adjust for your own tastes.
INGREDIENTS:
roasted chicory root
roasted dandelion root
fennel seeds
crystal malt
chocolate barley malt
natural coffee flavoring
What the site has to say about their product:
Hold onto your hats, coffee lovers! This natural coffee replacement is so darn delicious, you won't believe your taste buds. Our Wild Chicory Joe brews into a boldly deep herbal tea that masquerades as a strong-brewed cowboy coffee, without any acidity. The roasted chicory root creates a dark espresso base while the chocolate barley malt adds cocoa notes and the fennel adds a little sweetness. Drink it straight or as the bold caffeine-free base for a latte. You might even trick some coffee fanatics into enjoying this cup of herbal tea. Giddy-up and grab some Joe!
COSTS: $4.00/sample (loose tea available as well)
Price may vary according to the amount purchased.
REVIEW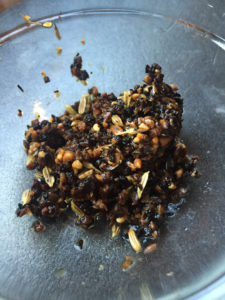 Brewed: Very Dark Brew (like coffee)
Scent: It took me a while to figure out the scent that was on top and that had to be the malt which also reminded me of a coffee being roasted scent.
Flavor: You are going to see two reviews here, I am not a coffee drinker but my daughter is so I had to review this tea for me as well. For me this tea was right on after first sip, first sip was a bit strong and took a minute for me to recognized all the mixture going on but then there is was like BAM coffee.
Sentiments:The malt gives it that added push through to the coffee sensation and even though there is a coffee flavor added to this tea it does not make it the coffee flavor. The ingredients listed above combine so well to bring you an almost tea/coffee sensation. Something a bit more healthier then coffee yet giving you that strength and coffee flavor you may need to switch over to tea. On it's own it's a great drink for those that like a strong tea and enjoy it's unique flavor.
My Tea Vault score values of 1-10 (10 being the best): "7".
Till next sip