Tea Review – YASSS – The Hermits Lamp
Tea Selection: Yasss
Name: The Hermits Lamp
Location: Toronto, Ontario
Owner: Andrew McGregor
Tea Company Comments taken from their webpage:
My name is Andrew McGregor and I have helped thousands of people through reading the tarot over the last 12 years. Reading the cards is my thing, my super power, and my passion. It is the tool I use to help people build the life they want to lead. When I read the cards for people I help them understand who they are, what they need to do to enjoy their lives and be successful and I help them plan how to manifest the life they want.
Simply put I can help you align your sacred self with your daily life.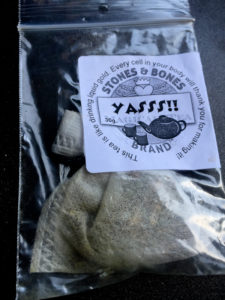 Personally:
I was introduced to The Hermits Lamp through social media when I saw Andrew list one of his teas so I sought out his teas to do a review. I am thrilled to be able to introduce to you the teas he sent me.
The site is more of a tarot reading specialty store of supplies for a spiritual journey of awareness and making your space a better place, which includes an amazing variety of teas to help with the journey you are on!
Read more about The Hermits Lamp on their website: HERE
Direct Link to Tea found HERE
BREWING INSTRUCTIONS:
These are common instructions for brewing teas, however if the company suggests other brewing I will include it in the review section.
Time and Temperature Guide:
Tea      Temperature Minutes
Black      95°C / 205°F 3 – 5
Oolong/White 85°C / 185°F 3 – 4
Green/Yellow 80°C / 176°F 2 – 3
Herbal/Tisanes.         100°C / 212°F 5 – 15
** As always stated by My Tea Vault, we think you should enjoy tea the way you like it, I like mine very strong with no sweetener, these are just guidelines and I suggest you use the guideline then adjust for your own tastes.
INGREDIENTS:
Tulsi
Frankincense
Galangal
Cinnamon
Peppermint
COSTS: $6.00
Price may vary according to the amount purchased.
Comments about Tea from Website:
This tea is like drinking liquid gold; every cell in your body will thank you!
Add 1 tsp. to 1 cup hot water. Steep for 10 minutes. Add honey and enjoy!
REVIEW
Brewed: This tea has a light liquor.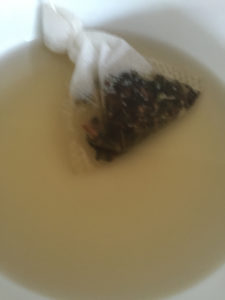 Scent: Strong cinnamon scent with a mint note in the background as well as a wood note that lingers a bit with the peppermint/cinnamon mix.
Flavor: That strong cinnamon scent mixes with the mint note in the background as well as a wood note that lingers a bit with the peppermint/cinnamon mix.
Sentiments: This tea is a unique mix of both cinnamon and peppermint with a bit of a wood or smoke background notes. The Thulsi, Frankincense and Galangal mix well into this tea to bring a beautiful bouquet of flavor.
My Tea Vault score values of 1-10 (10 being the best): "7".
Till next sip…