Tea Reviews – Story of My Tea – Brandy Oolong, Rhubarb Oolong and more…
Company Name: Story Of My Tea
Teas: Tea Subscription
This was a kickstarter and a company who I've reviewed teas for prior, I really love what they have done and will share with you each box I get for the upcoming 6 months (we have four more to go).  Here is something I really love, the information!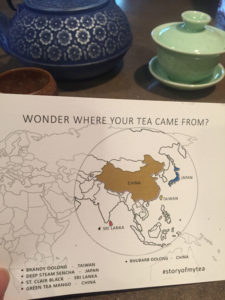 I also love the fact that each package contains a Q Code that you scan and find even more information about the tea you are drinking.  I'm really very honored to share them with you!
Tea Selection: GREEN TEA MANGO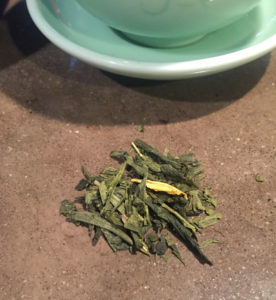 Interesting Highlights:
So excited to be sampling another subscription box from Story of my tea and share with you all the fun we are having. Check our Story of My Tea, because you get a lot more then just tea, you get… a story! There are so many facts with these teas you have to check them out.
Ingredients:
Sencha Green Tea
Mango
The Scent or Aroma:
Strong mango scent
Review:
This lovely brew comes with the enzyme fighting ingredient mango. Mango helps break down the enzymes in our stomachs when we eat. This tea has a lovely flavor, it's light and airy, not vegetal at all but a lovely tea with a bit of sweetness to it as well. The liquor is a very light amber.
Cost: Subscription as well as individual tea prices to be announced shortly!
*********************
Tea Selection: DEEP STEAM SENCHA
Interesting Highlights:
Lovely fine leaves, beautiful deep royal green color.
Ingredients:
Japanese Green Tea
The Scent or Aroma:
Light aroma with a slight vegetal aroma.
Review:
A light liquored tea with a very soft vegetal flavor and a creamy taste with an earthy nutty back. It's just amazing how this tea is so subtle and genuine, relaxed with notes of nuts and creaminess.
Cost: Subscription as well as individual tea prices to be announced shortly!.
*********************
Tea Selection: BRANDY OOLONG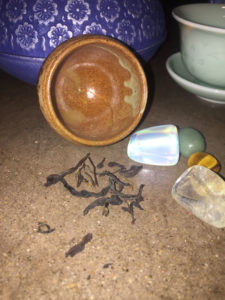 Interesting Highlights:
Smooth yet darker brew tea
Ingredients:
Taiwan Oolong
The Scent or Aroma:
Mild woody scent, earth and deep
Review:
Mild tea with a depth to it, but not a strong tea, mild with notes of sweetness and earthy. The fun thing about these teas are their subtle and not overbearing taste.
Cost: Subscription as well as individual tea prices to be announced shortly!
*********************
Tea Selection: ST. CLAIR DIMBULA OP1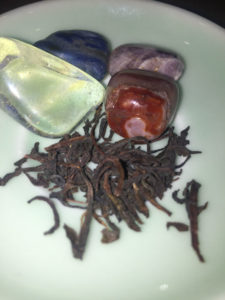 Interesting Highlights:
Stronger tea one of the strongest as far as caffeine in the box this time. Lovely roasted tea leaves dark in color, stronger liquor.
Ingredients:
Sri Lanka Ceylon tea
The Scent or Aroma:
There is a sweet aroma to this tea, earthy and a mild vanilla scent that just sneaks out from behind.
Review:
A stronger tea with a slight bitter edge , yet still following the smooth pattern that all these teas have shown. There is a very nice berry flavor that you can taste when you look for it, fun tea to explore. This is a wake you up tea and great for that morning wake up or the afternoon pick me up. It's not harsh, but the caffeine will wake you up and keep you going.
Cost: Subscription as well as individual tea prices to be announced shortly!
*********************
Tea Selection: RHUBARB OOLONG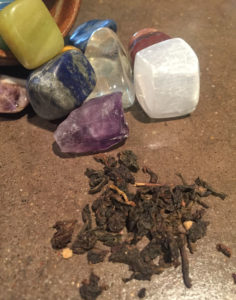 Interesting Highlights:
Who would have thought Rhubarb in a tea? Such a sweet smell a lovely tea with a delightful unique scent.
Ingredients:
A Chinese Oolong
Rose Petals
Rhubarb
The Scent or Aroma:
A sweet scent, a bit of a honey and cinnamon fruity scent when first brewed.
Review:
The scent of this tea is really unique and splendid and as we normally know a scent is not a taste. A genuine tea, honestly I'm not a rhubarb fan, but this tea is super good. It's amazing how a tea can taste "sweet" with no honey or sweetener added.   A mellow sweet tea with a unique flavor something like strawberries and honey or fruit and honey. Enjoyable.
Cost: Subscription as well as individual tea prices to be announced shortly!
~~~~~~~~~~~~~~~~~~~~~~~~~~~~~~~~~~~~~~~~~~~~~~~~~~~~~~~~~~~~~~~~~~~
Company highlights, notes and more:
Story of my tea will soon have a Kickstarter and I will be sharing that information with you so make sure to watch all of my social media as well as follow Story of my tea.
I also wanted to share with you THIS LINK
On ever package of tea you receive will be a code for you to scan and each code will take you to a similar page but related to the tea at hand. I'm so excited about what Story of My Tea has done and how they are sharing with us more then just a package of amazing tea, but the origins, how to prepare and more.
ABOUT STORY OF MY TEA
We believe tea is art and that every tea has its own story- A story of its origin, history, heritage and people; A story that inspires open-minded exploration; A story that makes the tea a little more personal than its taste and smell.
​
We came up with the idea of Story of My Tea when, out of our curiosity for tea, our goal is to help you:
​
Experience the best of tea from around the world
Discover the beauty, cultures and diversity of tea
Keep track of your tea exploration
Read more or visit their website: CLICK HERE:
******************************************************************
I hope you all are enjoying and sharing our tea reviews. I love our tea loving community and as tea continues to grow and flourish so will our reviews. I plan on keeping us all informed on what is going on, what is new, what is bad and simply what is.
Please take a moment to sign up for our newsletter and follow us on Facebook, Twitter and Instagram. So much more to share and the newsletter gives us discounts, giveaways and tea companies inspirations. Don't be left out of our community.
I've included an average brewing instruction chart below to help you brew your teas.
Like us? Love us? Want a certain tea reviewed?
SEND US YOUR COMMENTS!
(So serious, write to me and tell me what you are thinking, I honestly want to hear from everyone!)
*********************************************
AVERAGE BREWING INSTRUCTIONS:
These are common instructions for brewing teas, however if the company suggests other brewing I will include it in the review section.
Time and Temperature Guide:
Tea      Temperature Minutes
Black      95°C / 205°F 3 – 5
Oolong/White 85°C / 185°F 3 – 4
Green/Yellow 80°C / 176°F 2 – 3
Herbal/Tisanes.         100°C / 212°F 5 – 15
** As always stated by My Tea Vault, we think you should enjoy tea the way you like it, I like mine very strong with no sweetener, these are just guidelines and I suggest you use the guideline then adjust for your own tastes.