Tea Selection: "Sassafras" Tea
Tea Selection: "Sassafras" Tea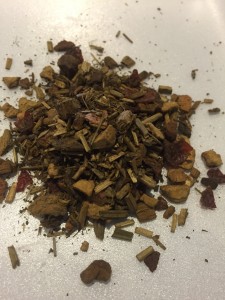 Company Name: India Tea Company (San Francisco Bay Gourmet-Coffee and Tea Market)
Location:              Lincoln, Ca.
Brand:
Founded:              1979
Founder:               Jon, Barbara, Jim, Lisa, John, Pete, and Kirsten Rogers
"Established in 1979, our steadfast mission is to search out the world's finest Arabica varieties and roast the richest, most flavorful coffees available anywhere while making the world a better place at the same time.. We stand for premium, sustainable, fair and direct trade coffee and tea at prices you'll love!   We like to say our products are grown for good. Our Community Aid Program has restored thousands of acres of rainforest by farming only with shade-grown farms, and planted our own coffee on our own organic farms! We are a privately held, 100% family–owned and operated company, and our reputation reflects on us as a family."
Read more about India's Tea on their website: http://www.gourmet-coffee.com/home.php
This was a black tea a basic Breakfast tea. It came to me in a tea bag form and brewed a perfect cup of tea
Ingredients:
A combination of Licorice root, wood betony, orange peel, cinnamon, rose hips, peppermint leaves, artificial sassafras flavor, artificial and natural flavor.
Costs at the time of this writing:
1 # Loose Leaf – $19.99
Review: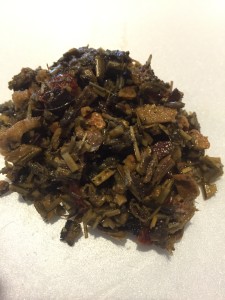 This "tea" is extremely strong and I don't like to give negative reviews but, on first taste this tea is as artificial as the bag it comes in. Please do not waste your money on a memory that is not there. First off Sassafras is banned in the USA, so you are not getting anything natural. The flavor is awful and it's fake sweet, and such a bad after taste. I put the tea on a Styrofoam plate.
This is what happened. The choice is yours.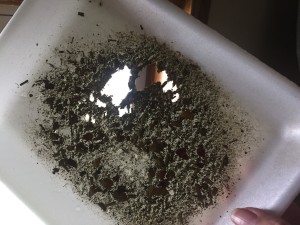 Till next Tea….