Tea Spot Teas; Clouds and Mist, Pumpkin Spice Chai, Russian Caravan and MORE…
Company Name: TEA SPOT
**Direct link to main tea site is located below the Company Details below tea reviews!**
TEA SELECTION: CLOUDS AND MIST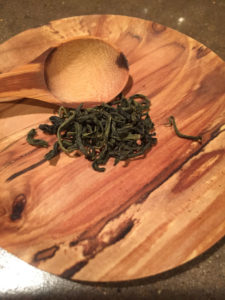 Interesting Highlights:
Not a vegetal taste in sight, great woody nutty flavor and my top pick from this group of teas.
Ingredients:
Premium Green Tea from Zhejiang, China
Review:
No aftertaste or bitterness light, airy and fresh. Some green teas give that leafy green vegetal flavor but not this one, very light and airy, somewhat nutty and earthy as well. Smooth.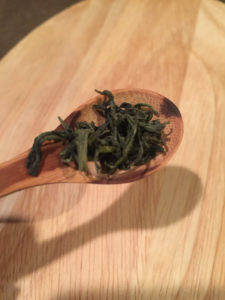 Cost: $6.95 / 12 sachets
Price may vary according to the amount purchased.
~~~~~~~~~~~~~~~~~~~~~~~~~~~~~~~~~~~~~~~~~~~~~~~~~~~~~~~~~~~~
TEA SELECTION: PUMPKIN SPICE CHAI
Interesting Highlights:
Oh yes.. A pumpkin spice tea! You have to have at least one in your tea closet!
Ingredients:
black tea
ginger root
cardamom
cinnamon
allspice
cloves
black pepper
pumpkin flavoring
Review:
This is one strong tea and it will go a long way. The liquor is a dark amber color and it's flavor is more of a roasted then smooth feel. You will taste more the the spice and chai and then, at the end a nice surprise of pumpkin to follow through.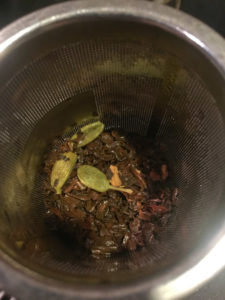 Cost: $12.00 / 1/4 lb
Price may vary according to the amount purchased.
~~~~~~~~~~~~~~~~~~~~~~~~~~~~~~~~~~~~~~~~~~~~~~~~~~~~~~~~~~~~
TEA SELECTION: SMOKE JUMPER GINGER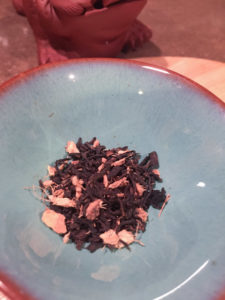 Interesting Highlights:
There are two types of Lapsang teas ones that work and ones that do not. It has to do with the way the tea is smoked and processed.
Ingredients:
organic lapsang shouchong
organic ginger root
Review:
This tea works, and the added ginger is an absolute blast with this tea. You've got the smokey mellow (see that is the key of a good lapsang: mellow) flavored tea with the spice of ginger added. This tea will warm your senses and awaken your sinuses. It's pretty awesome with no bitterness or aftertaste.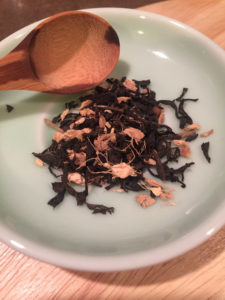 Cost: $14.00 / 1/4 lb
Price may vary according to the amount purchased.
~~~~~~~~~~~~~~~~~~~~~~~~~~~~~~~~~~~~~~~~~~~~~~~~~~~~~~~~~~~~~
TEA SELECTION: RUSSIAN CARAVAN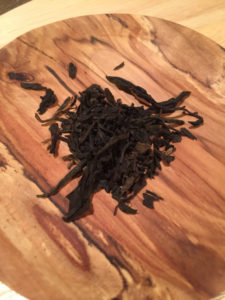 Interesting Highlights:
This is a darker brew but still with the mellowness of a perfectly processed lapsang.
Ingredients:
organic lapsang shouchong
organic oolong
organic assam
organic pu'erh
Review:
Dark, deep and lovely. No aftertaste or bitterness. Lovely flavor, strong and eye opening, this is not a night time tea, but more a dinner or absolute breakfast wake me up and get me out the door tea. Light smokey flavor. Very balanced.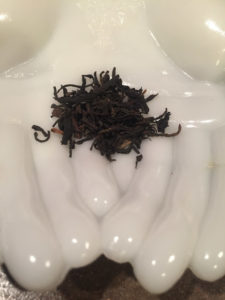 Cost: $16.50 / 1/4 lb
Price may vary according to the amount purchased.
~~~~~~~~~~~~~~~~~~~~~~~~~~~~~~~~~~~~~~~~~~~~~~~~~~~~~~~~~~~~~
SPECIAL NOTE: The Tea Spot has a large variety of teas to choose from, please take a moment and check out their vast array of choices.  What is your favorite?  I'd love to know.
~~~~~~~~~~~~~~~~~~~~~~~~~~~~~~~~~~~~~~~~~~~~~~~~~~~~~~~~~~~~
Company highlights, notes and more:
At The Tea Spot, we handcraft teas as timeless as the Colorado mountains that surround us. Our innovative Steepware® designs make the premium tea experience effortless and accessible. With one foot steeped in tradition, and the other outstretched toward a healthier future, we infuse the goodness of whole leaf tea into your everyday.
The Tea Spot is a leading producer of handcrafted whole leaf teas and the creator of Steepware®—innovative teawares that make healthy tea effortless and accessible. The company was founded in 2004 by Maria Uspenski, a cancer survivor drawn to the health benefits of whole leaf tea during her recovery. Her message is simple and powerful: tea in its freshest form renders premium flavor and unmatched health benefits. With a steadfast mission to foster health and wellness through tea, The Tea Spot donates ten percent of all sales in-kind to cancer and community wellness programs. To date, they have supported over 100 organizations and touched more than 10,000 lives. The Tea Spot is a Colorado-based Certified B Corp, woman-owned and operated philanthropic business.
Read more and visit the website: CLICK HERE.
******************************************************************
I hope you all are enjoying and sharing our tea reviews. I love our tea loving community and as tea continues to grow and flourish so will our reviews. I plan on keeping us all informed on what is going on, what is new, what is bad and simply what is.
Please take a moment to sign up for our newsletter and follow us on Facebook, Twitter and Instagram. So much more to share and the newsletter gives us discounts, giveaways and tea company's inspirations. Don't be left out of our community.
Below I have included an instructional brewing chart to help you brew your teas.
Like us? Love us? Want a certain tea reviewed?
SEND US YOUR COMMENTS!
(So serious, write to me and tell me what you are thinking, I honestly want to hear from everyone!)
Don't forget to follow me and make sure you say Hello!
******************************************************************
AVERAGE BREWING INSTRUCTIONS:
These are common instructions for brewing teas, however if the company suggests other brewing I will include it in the review section.
Time and Temperature Guide:
Tea Temperature Minutes
Black 95°C / 205°F 3 – 5
Oolong/White 85°C / 185°F 3 – 4
Green/Yellow 80°C / 176°F 2 – 3
Herbal/Tisanes. 100°C / 212°F 5 – 15
** As always stated by My Tea Vault, we think you should enjoy tea the way you like it, I like mine very strong with no sweetener, these are just guidelines and I suggest you use the guideline then adjust for your own tastes.