Tea Sugar – Review – Artisan Sugar
Tea Selection: Various Fun and Exciting Sugar Samples
Name: Artisan Sugar
Location: Retail: Boulder, Colorado
Founder: Denise Cook
Comments taken from Artisan Sugars webpage:
Artisan Sugars creates flavor-infused, uniquely stylish sugars for coffee, tea, and cocktails. Each handmade, gourmet sugar is an edible work of art created to entice all of your senses. Made with the finest natural ingredients, Artisan Sugars are as delicious and aromatic as they are beautiful.
Served and enjoyed in modern coffee & tea houses, upscale restaurants, luxury hotel ballrooms, and stylish home tables, our artisanal sugars are perfect for special occasions and everyday indulgence.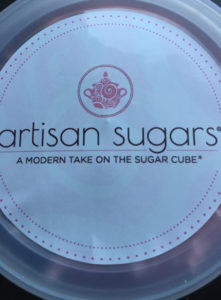 Personally: You have to love Twitter and all the connections you can make. I connected with Artisan Sugars through a comment I made on Twitter. I'm a fan of sugar cubes because they bring me back to a very fond childhood memory and when I saw the very artistic and creative ways Artisan Sugars was making sugar, I had to connect with them.
I also have to admit I had to bite into one (or maybe two) of these delightful sugar shapes and I have to admit they are not for eating like a sugar cube, I'd have to say they are sweeter then the normal sugar cube and that is a good thing for your tea (or coffee) (or maybe flavored water) drinks.
Read more about Artisan Sugars on their website: Artisan Sugars. 
PRODUCT: Fun Sugar Shapes
So, yes I bit into a couple of these charming shapes and I have to say it was delightful and very sweet. I was excited to try them in my tea and I thought why not try them in some hot water as well, then cool it to an iced drink, just to see how it goes.
First I have to say these are a class act and beautiful creation. I can see these on a high tea service, banquet, wedding shower and more. Just fun to even have around in a sugar bowl. To me they seemed "classy". They brought back the sugar cube days and tea with my grandmother.
INGREDIENTS:
Flavor infused Sugars
REVIEW:
Each shape has it's own flavor like lemon, peppermint or Butter pecan.  Each sugar can add such a delightful added flavor to your tea, even your dark teas like a black tea, I tried the butter pecan and besides being sweet, there was this soft subtle butter pecan flavor working behind the scenes.  Lemon is awesome as well.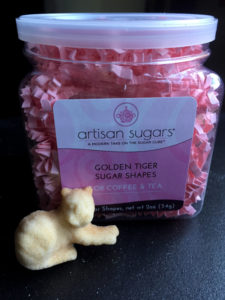 I dropped the lemon ones in a cup of hot water just to see the difference and I honestly liked it.  Sweet lemon.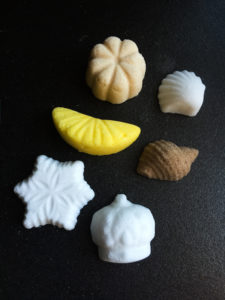 I honestly can't think of a reason NOT to buy these, they are fun, the product is amazing and well, the only sad part is when they disappear in your drink.