Tea Taste Test #1 | Black Mango | Traveling Tea
Tea Selection: Black Mango Tea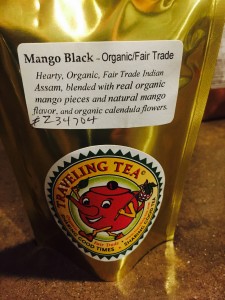 Company Name: Traveling Tea
Location:               St. Louis Missouri
Brand:                    Natures Notion, LLC
Founded:              2008
Founder:               Kateri Meyer
Tea Company Comments taken from their webpage:
Traveling Tea is not a franchise and they work to bring you the best most affordable highest quality teas. You can purchase enough for a cup or as much as a pound. Kateri             wanted to bring a quality tea store to the St. Louis area.
Read more about Traveling Tea on their website: Traveling Tea
I actually was visiting the Maplewood area to check out a new doughnut place I had heard of, they must have been so, good, they were closed. So we looked around and one store up I saw ORGANIC on the store then TEA. No questions asked, we had to stop in.
The store is very quaint and her supply room nearly matches the size of the store. On a table in front of the store are cute containers of tea, each labeled and placed in correct categories. Herbals, Black, Green, Organic and more. You can sample smell each tea and it's a lot of fun!
There are some sample teas already ready for your tasting pleasure.
The black tea contains pieces of mango gently infused throughout the bag.
Ingredients:
Organic Black Teas
Natural Mango Flavor
Costs at the time of this writing:
1 pound bag –
2 pound bag –
I do love a good Mango tea and this one is very compatible as the Mango Ceylon I reviewed earlier. It's a light refreshing tea with a brisk black flavor and a hint of Mango. The one thing that surprised me about this tea and took me just a moment to get used to was it's floral taste. I did not expect it and it threw me off for just a moment but I have to say, once you acquaint your taste buds to this tea you will be very content with it's flavor.
You cannot easily double steep this tea and I don't necessarily think this is a problem some teas you can however there are more that you cannot. I've enjoyed this as an early morning wake up tea as well as a refreshing tea to calm down the nights.
You are going to enjoy this lite tea with it's refreshing floral overtones, it's an anytime tea with almost every meal you can enjoy it as well.   It's a light tea to enjoy with or without sweetener. Add some honey to it's mix to really bring out the sweetness and floral tastes.
I originally purchased a small sample and went back for a larger bag. I very much enjoyed this tea.
Hot Tea Taste Facts:
I always take a sip of hot tea for all you hot tea lovers and let you know that the tea is an incredible mix of citrus and flower with a foundation of a rich but not overbearing black tea. This would make a great sweetened tea as well, I am very sure a light honey would only bring out the citrus flavors even more.
Till next Tea….