Tea Review – Adagio Cherry Green
Tea Selection: Cherry Green
Company Name: Adagio Teas
Location:
Brand:
Founded:
Founder: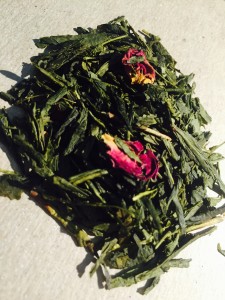 Tea Company Comments taken from their webpage:
Searching their website I don't see a lot of information of how they started, but there are a few different facts like a ban yourself page that you can ban yourself from spending too much at their stores and website. Also you can click a link and find teas located near you and as their website states they are very interested in the planet and our carbon offset, very earthy and down to earth tea company.
Read more about Adagio Teas on their website: Adagio
Fresh green tea flavored with ripe summer cherries.
Ingredients: Green tea, natural wild cherry flavor, rose petals, dried cherries.
Costs at the time of this writing: 15 full leaf pyramids – $7.00
Review:
If you are not a green tea fan I'd start right here, this tea would make you start to appreciate green tea. The citrus scent is the first thing that takes over when you smell the tea prior to steeping, it's a far cry better then the asparagus smell that a lot of green tea's give off. If your not a fan of the vegetal scent yet you want to start drinking a more healthier green tea I suggest starting right here. The cherry flavor is slight yet really has a balance with the green tea giving it more of a citrus taste then vegetal. Even though there is no lemon in this tea I got a very strong sense of lemon with the cherries. Great tea
Till next Tea….