Tea Taste Test – Adagio White Blueberry
Tea Selection: White Blueberry
Company Name: Adagio Teas
Location:
Brand:
Founded:
Founder: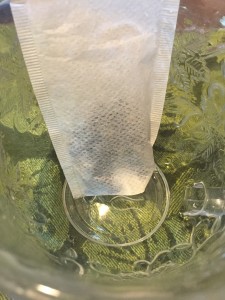 Tea Company Comments taken from their webpage:
Searching their website I don't see a lot of information of how they started, but there are a few different facts like a ban yourself page that you can ban yourself from spending too much at their stores and website. Also you can click a link and find teas located near you and as their website states they are very interested in the planet and our carbon offset, very earthy and down to earth tea company.
Read more about Adagio Teas on their website: Adagio
A Fujian province, China white tea infused with blueberry.
Ingredients: White tea, blueberries, natural blueberry flavor.
Costs at the time of this writing: 15 full leaf pyramids – $6.00
Review:   A white tea is a lighter tea with slight flavoring however this tea had very little flavor or scent. Before steeping I always smell the bag when first opened and I was surprised at such little scent, after brewing it was similar. Blueberry being a more citrus smells it seemed to be a bit void. This would be a very nice light tea for an evening on the porch and just relaxing and for those just getting into tea, such a very light flavor that most people would enjoy as they get used to brewing their own loose leaf tea.
Till next Tea….