Tea Taste Test – Choice Mango Ceylon
Tea Selection: Mango Ceylon
Company Name: Choice Tea
Brand:                   Granum, Inc.
Founded:              1989
Founder:               Blake Rankin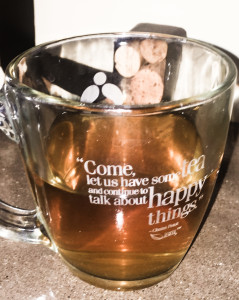 Tea Company Comments taken from their webpage:
Firm belief in organics and fair trade with a concern for the ethical treatment of workers who cultivate tea. Choice teas are manufactured in a certified organic facility.
Read more about Choice Teas on their website: Choice Teas
My first exposure to this tea was while out on a dinner date in Cleveland, Ohio. I also request Black Tea, unsweetened and our server brought us this amazing glass of tea. I was astonished that the tea was so good. Generally I expect a powered or lower value tea but this tea had the best flavor I'd tasted in a long time. Refreshing.
I expressed my liking of the tea so much to our waiter that before I left I was handed a brown bag of loose leaf tea from the Choice Tea Company. I could not have been happier.
One of the reasons I don't mention the restaurant as i do not want anyone to get into trouble over anything.
The date was nice but the tea was amazing!
A Ceylon is a black tea and this tea is contains pieces of mango gently infused with marigold petals throughout the bag.
Ingredients:
Organic Black Teas
Natural Mango Flavor
Organic Marigold Petals
Costs at the time of this writing:
1 pound bag – 31.90
2 pound bag – 52.90
This is such a refreshing tea without a heavy taste of citrus or flower in it. I steep my tea bag with 1 teaspoon of tea and let it sit for about 2 minutes. The tea is already a rich mahogany color by then and I pour my hot tea over ice, because that's the way I like it. I also double steep this tea easily and it makes a second cup that tastes as good as the first.
Mango Ceylon is a beautiful full body tea that infused the slight taste of mango and marigold with a slight hint of the black tea.   The citrus is not overpowering at all it's a beautiful balance with an incredible slight taste of mango.
I like the fact I could double brew a teaspoon or so and I've noticed with my use I continue to steep more and more tea at each brewing, then for a while I will back off this tea and when I come back I start back at the one teaspoon again.
This is an all day tea, meaning I can brew this tea in the morning and come back to it later in the day and it's still refreshing.
I purchase a two pound bag and that lasts me about four or five months. I used to belong to their automatic delivery but this ran into problems so I just went back into ordering it myself, in fact, I just looked and it's time to re-order
Hot Tea Taste Facts:
I always take a sip of hot tea for all you tea lovers and let you know that the tea is an incredible mix of citrus and flower with a foundation of a rich but not overbearing black ceylon tea. This would make a great sweetened tea as well, I am very sure a light honey would only bring out the citrus and marigold flavors even more.
Till next Tea….