Tea Taste Test – Davidson's French Vanilla
Tea Selection: French Vanilla
Company Name: Davidsons Tea
Location: Reno Nevada
Brand:
Founded: 1976
Founder: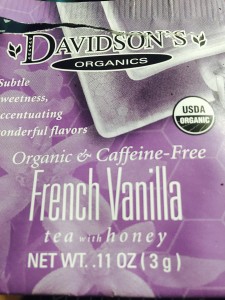 There is a ton of great information on this website. I try to stay focused with the company but you will need to check out the website for all the tea information and nations that they work with and why.
Yes, founded over 38 years ago and making strides in the industry as well as in 2007 combining their organic philosophy and vision by entering an alliance with one of India's top organic tea growers. Today they work with tea producers from India, Sri Lanka, China, Latin America and Eastern Europe.
Davidson's tout one of the largest selections of USDA Certified Organic Teas.
Read more about Davidson's Tea on their website: Davidsons
Ingredients:
Organic dried honey
Organic chamomile
Organic carob
Organic rooibos
Natural flavors
Costs at the time of this writing:
$6.90 – $26.50
Review:
This is a sweet tea and the dried honey will give you an essence of sweetness. This tea is very light and such a sweet vanilla flavor. The fact that there is carob in this tea surprised me as I really did not taste any. It has a beautiful aroma that while steeping left me with the idea "I can't wait to taste this tea. I was not disappointed at all. It's a caffeine free tea and that is a welcome blessing for those that cannot have caffeine because it's a great taste and experience as a tea drinker!
Hot Tea Taste Facts:
This is an absolute hot tea and I do not suggest it as an iced tea. When I added the ice to it just seemed to lose so much of it's fragrant taste and it's sweetness..