Tea Taste Test – Earl Grey Supreme
Tea Selection: Earl Grey Supreme
Company Name: Harney and Sons
Location: Millerton, NY
Brand:
Founded: 1983
Founder: John Harney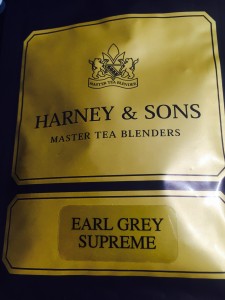 Tea Company Comments taken from their webpage:
First founded out of a love for teas over 30 years and out of his basement began his tea journey. As a Master Blender, serving teas and finding people kept returning for more. The Harney and Sons commitment is to deliver the finest quality tea possible.
Read more about Harney and Sons on their website: Harney
Highest grade of teas along with an addition of silver tips.
Ingredients: Blend of black teas and the oil of Bergamot.
Costs at the time of this writing: 20 foil teabags – $6.00
Review:
I was wondering what a supreme Earl Grey would be like and what would make it different. Their website says you won't want to go back to the basic Earl Grey. They may be correct. This is a strong black tea and a very deep amber look. The strong flavor is amazing as it really gives you a kick up from a regular Earl Grey. It's got a Nutty flavor like that of grilled nuts.
Hot Tea / Iced Tea Taste Facts: Hot, cold or sweetened it's a yes for sure. This is a versatile tea that can be used in different way in several situations. Great dinner tea.
Till next Tea….