Tea Taste Test – Harney and Sons Chai
Tea Selection: Chai
Company Name: Harney and Sons
Location: Millerton, NY
Brand:
Founded: 1983
Founder: John Harney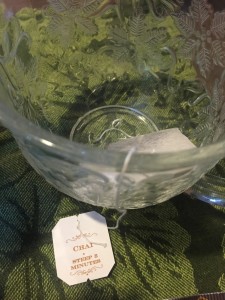 Tea Company Comments taken from their webpage:
First founded out of a love for teas over 30 years and out of his basement began his tea journey. As a Master Blender, serving teas and finding people kept returning for more. The Harney and Sons commitment is to deliver the finest quality tea possible.
Read more about Harney and Sons on their website: Harney
Similar to the Indian Spice, but stronger.
Ingredients: Black tea natural cardamom flavor, natural vanilla flavor, ground cinnamon, nutmeg, cardamom seeds and ground clove.
Costs at the time of this writing: 20 foil teabags – $6.00
Review:
Another tea when you open the wrapper it fills the area with a sweet smell. This tea made me think "pumpkin", not because it smelled like pumpkin but because the scent reminded me of the spices that go into making a pumpkin pie. I don't look at ingredients before testing a tea, so it did not surprise me it had cinnamon and nutmeg in it. This tea was a little bitter with a strong cinnamon presence.
Hot Tea / Iced Tea Taste Facts: What a fun tea, there is a lot going on with this tea and it really excites the senses. There is a lot here and hot it is and add some milk for another fun spin on a good tea. Great fall tea, however in the heat of summer I really enjoyed this tea.
Till next Tea….