Tea Review – Harney and Sons Decaf Ceylon
Tea Selection: Decaffeinated Ceylon
Company Name: Harney and Sons
Location: Millerton, NY
Brand:
Founded: 1983
Founder: John Harney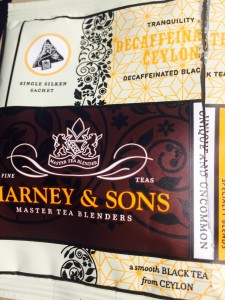 Tea Company Comments taken from their webpage:
First founded out of a love for teas over 30 years and out of his basement began his tea journey. As a Master Blender, serving teas and finding people kept returning for more. The Harney and Sons commitment is to deliver the finest quality tea possible.
Read more about Harney and Sons on their website: Harney
Decaffeinated Ceylon
Ingredients: Ceylon tea with the caffeine removed
Costs at the time of this writing: 20 Sachets – $9.60
Review:
Okay, okay I had to try it. The website says their customers tell them it's the best decaf they have had that taste "real". For me it was a very bland scent and the taste was just as bland, it just tasted like a very plain black tea. I've not tasted a lot of decaf teas at this point so I will leave this review as it stand. Bland.
Hot Tea / Iced Tea Taste Facts: Sweetener may help this tea, however it is a very bland tea and not a lot of flavor. I've never had to drink a decaf tea so I don't want to give a bad review to a tea for being bland when this is one of the best out there. I'd give it a shot; it can't hurt if you are being instructed to stay away from caffeine.
Till next Tea….