Tea Taste Test – Tammy Tulsi
Tea Selection: Tammy's Tulsi Green Tea
Company Name: Tammy Essentials
Location:               Troy, Missouri
Brand:
Founded:               2012
Founder:               Tammy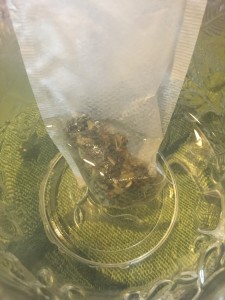 Tea Company Comments taken from their webpage:
Since 2012 Tammy has enjoyed making her own skin care products. Now an Aromatherapist and member of the National Association of Holistic Aromatherapy and an herbalist and a member of the American Herbalist Guild Tammy is devoted to helping others and providing safe and effective applications of the purpose driven plants around us.
Read more about Tammy's on their website: Tammy's Essentials
A caffeinated tea with a find mixture of several important herbs.
Ingredients: Organic: Green tea, holy basil, yerba mate, peppermint and a pinch of stevia.
Costs at the time of this writing: From $5.08
Review:
Tammy's Essentials is far more then just tea and if you are in Troy and get a chance please visit, you will be so glad you did. Tammy has been developing her own line of teas for a while and as an herbalist she knows what works and what does not. This is a green tea with a few added essentials to get you going in the morning and to pick you up when you need to keep moving. This tea has a very woodsy flavor and its green tea is still a very strong influence amongst all the other herbs added. Tammy's tea are more for the health then the enjoyment, even though they are very good they all have a health benefit and Tammy can help guide you to exactly what you need.
Till next Tea….