Tea Taste Test (TTT) Blueprint Lemongrass
Tea Selection: Lemongrass Tea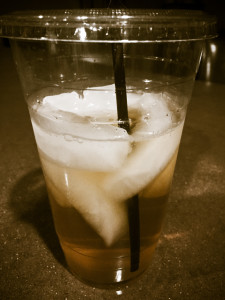 Company Name: BluePrint
Location:               St. Louis Missouri
Tea Company Comments taken from their webpage:
Blueprint Coffee seeks a mutually beneficial relationship loop among our producers, vendors, wholesale partners, and customers. Good coffee must be good from the start, so we dedicate a tremendous amount of time selecting a few coffees that are fresh and exciting. The beauty in these coffees is maintained through precise roasting, brewing, and training methods. Our company was born because a handful of baristas knew there was a need for a more transparent way to serve and present coffee. We encourage you to stop by for a cup and join in the loop.
Read more about Blueprint on their website: BluePrint
I wrote to Blueprint to ask for more information about their company and teas as of this writing they have not responded. If/When they do I'll update.
Bringing together lemongrass, green tea, and jasmine, this subtly sweet Kilogram iced tea.
Ingredients:
Green Tea
Lemongrass
Jasmine
Costs at the time of this writing:
Available only in commercial use
There was a new coffee house in town Coffee Bean and I had to check it out. I asked what kind of teas they had and Lemongrass was on the menu so that is what I ordered. One Iced Lemongrass tea, please!
I was not sure what to expect however the tea was very bright. Bright being strong yet mellow, if that makes sense I will try to explain more. Lemon! There I explained it. There is a nice citrus taste and if you are not a fan of green tea but want to get into a nice green tea this is it.
There are some green teas that leave a very un loving taste in your mouth. This was not the case and it was a lovely. Very light.
Yesterday I went back to the coffee shop hoping to taste another tea, they just had the lemongrass again so I ordered a cup. This tea was much stronger and deeper in color. It was the end of the day and perhaps I was getting a tea at the bottom of the pitcher.
I liked the tea a lot, very refreshing. Blueprint being a primary coffee wholesaler who has stepped into tea they have done a great job. I'm looking forward to tasting more teas from Blueprint.
Hot Tea Taste Facts:
I did not have a chance to try this tea hot.
Till next Tea….