Tea Review – Lapsang Souchong Butterfly
Tea Selection: Lapsang Souchong Butterfly #1
Company Name: Metropolitan Tea Company
Location:
Brand:
Founded:
Founder: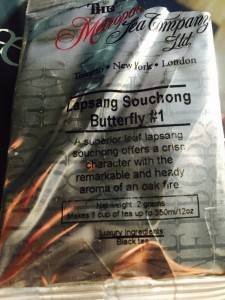 Their website seems to be mostly locked down unless you are a wholesale buyer, it's sad because I like to report a bit about the company as well as the tea. I can say they are into fair trade, and huge on carbon footprints doing what they can to help the environment.
When you go to their about page it's a huge list of master tea experts and other people that aide them in what they do but nothing about the company, founder or background. I wish I had more to give you, unless you are a wholesaler there is not going to be much information on the teas or the company.
Read more about Metropolitan Tea on their website: Metro
Ingredients:
Black tea
Costs at the time of this writing: Wholesale only
Review:
This tea, well… if I had to describe it I'd say house burning. When I opened the bag I thought someone had started a fire. I honestly did not like it to be honest and it tasted as bad as it smelled, very smokey and a very strong dark flavor.   Considering this is a black tea possibly by adding an herb to it may make it a bit of a softer flavor.
If you like strong, hard tea this is a definite one for you, it's not my cup of tea but that does not mean it's horrible, it's just something I did not like at all.
Hot Tea Taste Facts:
This tea is a Hot tea for sure as iced it really gave the flavor a more harsh black and dark flavor. The smokey flavor was not changed at all by the addition of ice.