Tea Water Review – Taza Aqua – Costa Rica Water
Reivew: Taza Agua Water
Location: SAN JOSE, Costa Rica.
Comments taken from Taza Agua webpage:
Taza Agua, the go-to name in premium water for brewing coffee and tea, has entered into the hospitality and tourism industries in Mexico to improve the in-room coffee and tea experience.
Taza Agua was established in 2016 to distribute the world's first bottled water specifically collected and processed for brewing tea and coffee. Taza Agua is a niche player and does not compete with traditional bottled water companies.
Taza Agua volcanic spring water is the perfect choice for use in home espresso and drip coffee machines.
Taza Agua is bottled on-site high in the stunning mountains of Costa Rica next to the Juan Castro Blanco National Park. The Indians affectionately refer to this area as, "Water Mountain." Locals now simply refer to it as, "Water Park."
Personally:
I was excited to hear about a company bottling a fresh spring water specified for coffee and tea drinkers. It should come to no surprise that I was able to acquire some to review and let you all know about it.
Taza Aqua comes from a fresh volcanic springs in Costa Rica
I first sampled the water by itself, the taste of the water was pretty simply "water" however, there was a feeling of sensation that the water was heavier then the water I drink, it was not thicker it flowered, just like water but it's substance was heavier. No aftertaste and no apparent mineral tastes.
Now let me say I do not drink tap water – my regular house water is delivered to my home and is from a water company that sells spring water and I have a dispenser in my home. My tap water is well water and it is extremely heavy with calcium.
Next I made tea with Taza Agua and I also made tea my normal way. Now honestly I could not tell much of a difference, which in honesty I felt was a good thing.
—-DO NOT STOP READING HERE — THERE IS MORE —-
Later that night I poured the Taza Agua tea into a cup and added some ice cubes I made from the water, as I was drinking it I noticed something different and it struck me so much I ran to my water kettle and made my drink the way I normally do it.
Then poured it into the same cup
Here is what my tea looks like: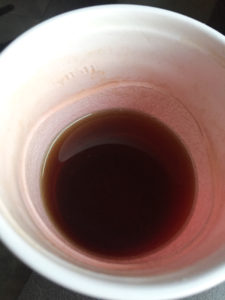 Now this is what the Taza Agua looks like: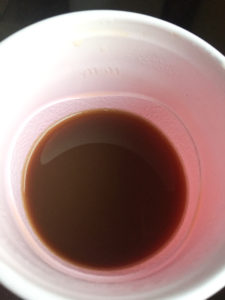 AMAZING!!!
My findings are this:
Sometimes we may not always taste a difference but there is an absolute difference, did you see the cups?
What I thought bringing into my home was good water yet it left a horrid film on the inside of the cup. What Taza Agua did was leave the contents of my cup in the drink and not on the side.
What water would you drink?
I know my choice.
Read more about Taza Agua on their website: Taza Agua. http://www.tazaagua.com