Thank you! You were NEVER forgotten!
To all those who allow their tea and tea products to be reviewed!
Just in case you thought after your review you were forgotten, here is proof you were not.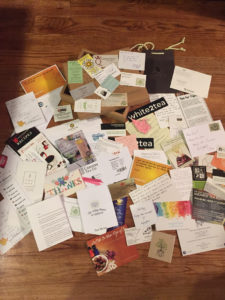 I've never forgotten you and often I'd pull these items out of the box I keep them in and remind myself how important you all are to me.
SO here are the reviews of 2016:
There were
271 Tea Reviews
of which 34 were of my Earl Grey's
and
25 Bottled Teas in our series Tea On The Go
I'm so honored and can only look forward to 2017 with a cup of tea in one hand and a pen in the other!
Thank you!