The London Tea Room Saint Louis **Review**
I have to admit I took a bit of a schooling from my Tea loving friends at Reddit.  I posted about not many tea houses in the US and they came back in full force with a list, a long list!
I know how to admit when I am wrong, so I did another blog and listed all those tea houses.  You can find that blog post HERE.
But one things surprised me there was a tea house in St. Louis, my town and why did I not know about this?  So, it took me a couple days and I made my visit to The London Tea Room.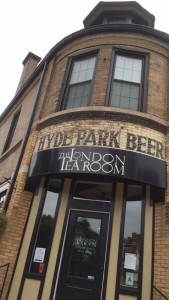 ---
When you find the building it sits on this quant little corner surrounded by a few of small town businesses.  It's a beautiful area.  The rounded steps leading up to the doorway and when you enter you feel a bit of excitement knowing you are entering into a place that takes tea serious.
You walk in and see people sitting at tables with tea cups and enjoying great conversation.  To the right are fun tea pots and lots of tea cups and tea accessories and when you keep walking there it is.. the wall of tea and it's impressive.  What is more impressive are the two young people working behind the counter, they knew their tea.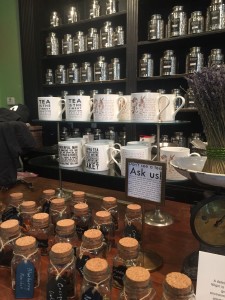 I asked if they had a tea in comparrison to a certain company and without a blink she replied and I grabbed the sample and sure enough it was the same familiar scent.  WOW!  I was a bit impressed.
It was also close to closing time yet they dealt with my questions, ponderings and looking around a few times.  I even ordered tea and they made it without a hint of "hurry".
I bought more then a few teas and I'm anxious to try them all, at this time I have not but there will be more reviews in the future.
The London Tea Room is impressive and the owners have done a wonderful job sharing their knowledge with the workers as well as with those of us wandering in from the streets.
London Tea Room, I'll be back thank you for the great service and oh yes. I purchased a Tea Shirt as well!  🙂
Teea just makes us smile!  🙂
Till next tea!
LB