17 Mugs Every Tea Drinker Would Die For
I honestly don't collect them but when I am out and about in different tea locations I always like to look at the creativity of the tea lovers around me. There are some amazing tea mugs.
Do you have a collection of tea mugs? I'd love to see them and let me know what you like about them.
Tea Cups originated in China and did not and most to this day do not have handles. Chinese tea drinkers used to prepare and drink their tea out of the same bowl. It was not until tea made it's way to England through trade that the tea bowls would have to change. The elite tea drinkers in England could not stand burning their hands and fingers on the tea bowls so things had to change, this was around the 1700's and it was not until 1750 did handles come into play when a Robert Adams made the first tea service (English Tea Service) which included handles. Can you imagine how strange that must have been to people, seeing tea bowls with handles?
To this day Chinese tea drinkers prefer to drink from tea bowls and not cups.
So how about the tea cups/mugs I've seen.. I wanted to share them with you. So here they and maybe you have one of them or a few. I think these are unique and special and just fun.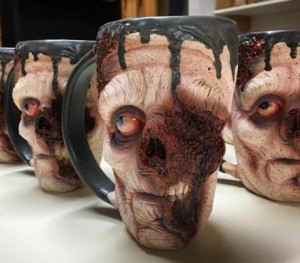 By far the most unique I have seen (and creepy)