There's a new sort of tea in town – Sophisticates Tea
Company Name: THE SOPHISTICATES
Sophisticates products are different then most and mix the loveliness of a tea with a concentrated mix to add to your own dairy or non dairy product. I was honored to try these products out and excited to share them with you.
TEA SELECTION: MOUNTAIN FOG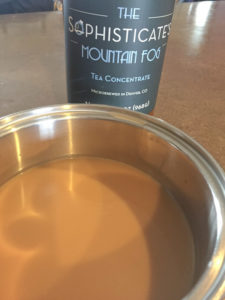 Review:
Unique flavor with a milky smooth texture. Very mellow Earl Grey and more on the sweet side. I made this drink with my coconut milk (warm) and it was a bit watered down, so I did something fun. I made it with almond milk, ice and put it in the blender, ahhhh, now this is a drink!
Ingredients: Filter watered, organic Earl Grey tea, organic evaporated cane juice, pure vanilla extract, ascorbic acid (vitamin C)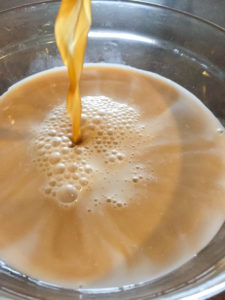 TEA SELECTION: MATCHA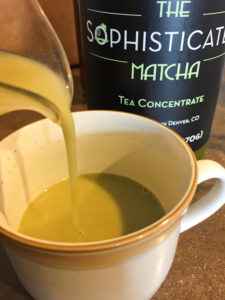 Review:
TEA SELECTION: CHAI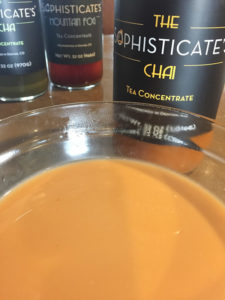 Review:
I love chai and this tea is no different, while I was taking picture of the products I could smell the chai and it always reminds me of fall, my grandmother and pie. The spices really stand out in this drink and I enjoyed it both warm and iced.
Ingredients: Filter watered, Assam Indian black tea, organic evaporated cane juice, honey, spices, ascorbic acid (vitamin C)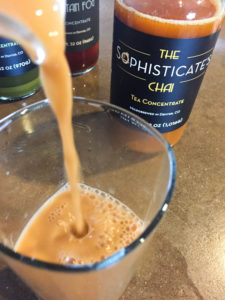 TEA SELECTION: BLACK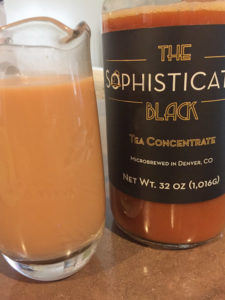 Review:
Nothing lacking in just a black tea concentrate with a touch of vanilla. You don't taste a lot of the vanilla and the drink is sweet, however you can control that by the amount of black tea you use in proportion to your dairy/non dairy product. This is a bit stronger then I thought it would be and not that I minded at all.
Ingredients: Filter watered, Assam Indian black tea, organic evaporated cane juice, honey, pure vanilla extract, ascorbic acid (vitamin C).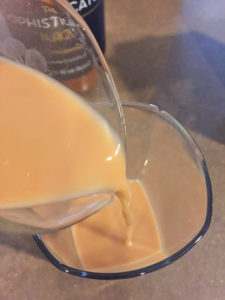 ********************************
COSTS: $12.00 per bottle or $40.00 per four pack, there is also a four pack with four mugs for $54.00.
Company highlights, notes and more:
The story of The Sophisticate's Tea is a heroine's tale. If you'd like to hear the full yarn, you'll have to come by, pour several tall drinks, and listen a while. This is the condensed version.
From birth till five-years-old, I traveled the US with my gypsy mom before settling in Denver, where I quickly became the only daughter of my single dad and spent the rest of a strange childhood as a chubby, four-eyed chatterbox.
I loved Colorado, but it didn't love me back and at 17, as a refugee of sorts, adventure called and I was invited to move to Wisconsin to live with a kind and generous family. I set two goals for myself at this point: to get married and have all my kids before turning 30. So, by the time I was 24, I had gone to college, met my husband, got married, had my first son and began putting my hubby through graduate school. But grad school left our family financially strained at times. One year, with the little resources we had, I decided to make gifts for the holidays. One of the gifts I created for family and friends was a masala chai concentrate. The loved it and begged for more.
We finished graduate school, moved to the South, had another son, decided to move back to the midwest for more graduate school, had yet another son, and ended up with a teaching post in Texas when I was 30.
And then I had a mid-life crisis.
Read more on their website (you will want to read more) 🙂
Read more and visit the website: CLICK HERE.
******************************************************************
I hope you all are enjoying and sharing our tea reviews. I love our tea loving community and as tea continues to grow and flourish so will our reviews. I plan on keeping us all informed on what is going on, what is new, what is bad and simply what is.
Please take a moment to sign up for our newsletter and follow us on Facebook, Twitter and Instagram. So much more to share and the newsletter gives us discounts, giveaways and tea company's inspirations. Don't be left out of our community.
Below I have included an instructional brewing chart to help you brew your teas.
Like us? Love us? Want a certain tea reviewed?
SEND US YOUR COMMENTS!
(So serious, write to me and tell me what you are thinking, I honestly want to hear from everyone!)
Don't forget to follow me and make sure you say Hello!
******************************************************************
AVERAGE BREWING INSTRUCTIONS:
These are common instructions for brewing teas, however if the company suggests other brewing I will include it in the review section.
Time and Temperature Guide:
Tea      Temperature Minutes
Black      95°C / 205°F 3 – 5
Oolong/White 85°C / 185°F 3 – 4
Green/Yellow 80°C / 176°F 2 – 3
Herbal/Tisanes.         100°C / 212°F 5 – 15
** As always stated by My Tea Vault, we think you should enjoy tea the way you like it, I like mine very strong with no sweetener, these are just guidelines and I suggest you use the guideline then adjust for your own tastes.