THERE'S A NEW TEA SHOP IN TOWN – TEATOPIA
This week I had the opportunity to visit a new and special teashop in St. Louis. I heard about the teashop on Instagram and checked it out.
did an article about the tea shop and I wanted to share it with you.
I had already known the size of the shop was going to be small (about 300 sq. foot small) because of the article and I was somewhat surprised at the way the store was set up and a genuine effort has gone into utilizing every inch. As people came in and we shuffled from side to side there was pleasant chatter going on and it made me think that the tight space is making people communicate and isn't that what the shops on Cherokee Street are all about?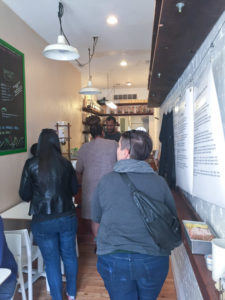 There is some really fun music that is being played and yes I had to Shazam to see what it was. Playing while we were there was Stephen Marley & Damian Marley, it really added to the eclectic atmosphere of Teatopia.
There are two menus one with food that is served as well as fun drinks and other beverages, and to the right are a few of the 40 teas that are served. Up at the register is the master list of teas and I dug right in, found the Silver Needle and yes, that was my choice. My daughter who was with me purchased a Green Dream Smoothie and literally talked about it for 15 minutes on how great it was. I took a sip and I can tell you it's a very clean, fresh drink, Green Dream has an amazing fresh flavor, I suggest you try it.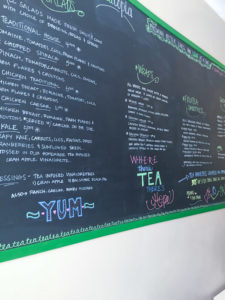 My tea was as I expected, a lovely white tea brewed to perfection. I can't tell you how wonderful it is to have a single origin fresh leaf tea. St. Louis is going to be turned on to some amazing teas from many continents including Africa, Sri Lanka, India and other parts of Asia and the St. Louis tea world is going to be so much better for it.
You can also purchase tea so, I did! I purchased a Coconut Crème as well as a Moroccan Mint and will share those reviews with you in the very near future.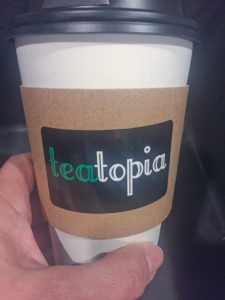 Besides the tea there is another fascinating factor at Teatopia and that is owner Reginald Quarles whose incredible upbeat personality and genuine smile will win you over in a minute.