Tranquil Blend | Tranquilo Teas
Tea Selection: Tranquilo Blend
Company Name: Tranquilo Tea
Location: Edmonton, AB
Founded: no information listed
Founder: no information listed
Tea Company Comments taken from their webpage:
Our mission is to supply our customers with the best teas, while giving a portion of proceeds back to local and global causes we believe in. We only source our teas from companies who have a history of ensuring ethical treatment of all employees on the tea estates and do not use child labor.
Our guarantee to you……..
NO preservatives, NO added sugars, and NO artificial colors!!
Personally:
The one thing I like about Tranquilo's packaging is all the information they give you about the tea, the caffeine levels, Antioxidant level and steeping guide.
Read more about Tranquilo Teas on their website: Tranquilo Teas.
INGREDIENTS:
Black Tea
Calendula and Sunflower petals
Natural flavors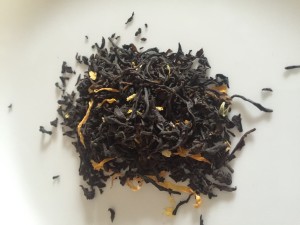 COSTS: 7.49 CAD / 2 ounces – varies according to what you purchase.
REVIEW: Love the name 🙂 I am guessing this is their signature blend named after them. it has a mild amber color and a sweet scent with a citrus taste on first sip. The flavor is very mild and the blend of Calendula and Sunflower petals to tea is balanced well to make a very nice mild drink. I love the use of the sunflower petals as well and the presentation is really very nice. Brews well and is a nice afternoon or relaxing tea in the evening.
Prior to brew:
Brewed: Mild Amber color
Scent: Sweet Scent
Flavor: Citrus / very mild flavor
Sentiments: Great tea for those that do not like it "too" black or dark. Love the coloring in the mix and the flavor is perfectly matched.
My Tea Vault score values of 1-10 (10 being the best): "5"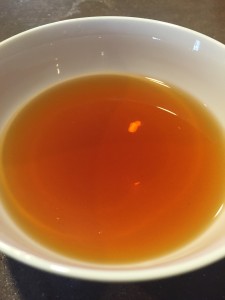 Till next Tea….