Unicorn Drinks and Why I'm Totally Against It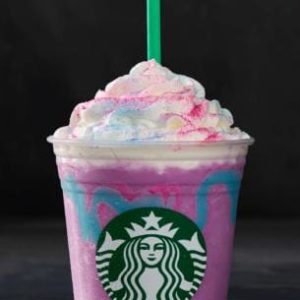 Here for a few days only:
"The flavor-changing, color-changing, totally not-made-up Unicorn Frappuccino. Magical flavors start off sweet and fruity transforming to pleasantly sour. Swirl it to reveal a color-changing spectacle of purple and pink. It's finished with whipped cream-sprinkled pink and blue fairy powders."
Starbucks.com
Who wants one? You all do because I see it through my social media feeds daily.
I gasp when I see your children with this drink because I am very sure a sane, intelligent person would not want their child to digest the fat (10 grams), sodium (230 mg.), or sugar ( 59 grams) that is in this "amazing" fad drink.
Sugars are mentioned at least 10 times in the ingredient listing (TEN TIMES).
Do we even know the history behind the Unicorn Food movement? Where did it start and how did we get here?
Originally started in a Bangkok Restaurant full of fun and pastel colors where food and drinks were colored and created for it's eye candy appeal.
Unicorn bread makes it's first appearance in the United States as a healthy fun alternative where the colors were dyed with healthy things, like Algae, Beets, Berries and more.
From there the world went crazy and we had Mermaid Bread, Unicorn Food, Spread, Noodles and more until now it was moderate fad and something shared on Pinterest , but let a company get a hold of a fad, disguise it as a fun drink and get you the consumer who rather be cool then read a label to order it.
So, what's in the Unicorn Frappuccino?
Ingredients
Ice, Milk, Crème Frappuccino Syrup [Water, Sugar, Salt, Natural And Artificial Flavor, Xanthan Gum, Potassium Sorbate, Citric Acid], Whipped Cream [Cream (Cream, Mono And Diglycerides, Carageenan), Vanilla Syrup (Sugar, Water, Natural Flavors, Potassium Sorbate, Citric Acid)], Mango Syrup [Sugar, Water, Mango Juice Concentrate, Natural Flavor, Passion Fruit Juice Concentrate, Citric Acid, Potassium Sorbate, Turmeric, Gum Arabic], Blue Drizzle [White Chocolate Mocha Sauce (Sugar, Condensed Skim Milk, Coconut Oil, Cocoa Butter, Natural Flavor, Salt, Potassium Sorbate, Monoglycerides), Classic Syrup (Sugar, Water, Natural Flavors, Potassium Sorbate, Citric Acid), Sour Blue Powder (Citric Acid, Color [Spirulina, Water, Sugar, Maltodextrin, Citric Acid])], Pink Powder [Dextrose, Fruit And Vegetable Color (Apple, Cherry, Radish, Sweet Potato)], Sour Blue Powder [Citric Acid, Color (Spirulina, Water, Sugar, Maltodextrin, Citric Acid)].
We cannot guarantee that any of our products are free from allergens (including dairy, eggs, soy, tree nuts, wheat and others) as we use shared equipment to store, prepare and serve them.
FOLKS… That's a whole lot of bad!
And here are the nutritional facts:
Nutrition Facts Per Serving (16 fl oz)
Calories 410
Calories from Fat 140
% Daily Value*
Total Fat 16g
25%
Saturated Fat 10g
50%
Trans Fat 0g
Cholesterol 45mg
15%
Sodium 230mg
10%
Total Carbohydrate 62g
21%
Dietary Fiber 0g
0%
Sugars 59g
Protein 5g
Vitamin A
15%
Vitamin C
0%
Calcium
20%
Iron
0%
Caffeine 0mg**
*Percent Daily Values are based on a 2,000 calorie diet.
**Each caffeine value is an approximate value.
I often talk about how other countries have the same products (candy, foods, meats) we have in the United States however they are created healthier in other countries because they are NOT PERMITTED to put the crap in them that the USA Food and Drug Administration allows or turns a blind eye to.
So who becomes the watchmen for our health? We do! You do!
Who watches what your children are eating? You!  It's a parents responsiblity to give their children healthy alternatives.
When we allow our children to eat and drink products such as the Unicorn Frappicino with 410 calories in a single 16 oz drink is it any wonder why, Americans have the greatest health problems as well as obesity in the world?
Oh but, it's just one drink, one candy bar, one snack but, is it?  What if we educate our children on what we are eating, the dangers of fatty foods, fast foods, sugar, soda and more.
What if we give our kids an advantage of having a healthier adulthood?
At some point we need to be accountable because it's clear our government is not.