WHEN YOU MIX YOUR BLUEBERRIES AND MATCHA
Company Name:  TRILL TEA
**Direct link to main tea site is located below the Company Details below tea reviews!**
TEA SELECTION: TRUE BLUE BERRY MATCH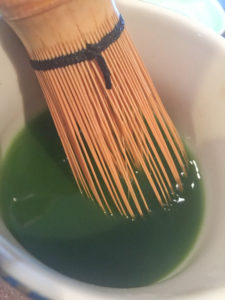 Interesting Highlights:
Very interesting Matcha and my first flavored Matcha to review for you.
Ingredients:
Matcha Green Tea
All Natural Blueberry Extract
Crushed Sugar
Review:
When you first open the pouch you will know this match is flavored blue berry and the scent is lovely. The flavor is delightful and sweet, interestingly it's more blueberry then matcha in taste however more matcha in appearance. This is an experience and as I've been told a best seller for Trill Tea and I can see why.
Cost: $10.00
Price may vary according to the amount purchased.
~~~~~~~~~~~~~~~~~~~~~~~~~~~~~~~~~~~~~~~~~~~~~~~~~~~~~~~~~~~~
SPECIAL NOTE:
Trill Tea offers a unique variety of teas you should take some time navigating the site.
~~~~~~~~~~~~~~~~~~~~~~~~~~~~~~~~~~~~~~~~~~~~~~~~~~~~~~~~~~~~
Company highlights, notes and more:
"I wanted to create a brand that people could relate to. A brand that emphasized the importance of being true to yourself. We're a generation that sets our own trends and traditions, so creating an experience to fit our lifestyles only made sense."
-Chaz Greene
Takingthe intimidation out of tea.
Connecting withpeople whobelieve in being true to themselves and real with all.
Disrupting everything you thought a tea brand could be.
We aim to be the beverage of choice for a generation of creators.
Read more and visit the website: CLICK HERE. https://www.trilltea.com
******************************************************************
I hope you all are enjoying and sharing our tea reviews. I love our tea loving community and as tea continues to grow and flourish so will our reviews. I plan on keeping us all informed on what is going on, what is new, what is bad and simply what is.
Please take a moment to sign up for our newsletter and follow us on Facebook, Twitter and Instagram. So much more to share and the newsletter gives us discounts, giveaways and tea company's inspirations. Don't be left out of our community.
Below I have included an instructional brewing chart to help you brew your teas.
Like us? Love us? Want a certain tea reviewed?
SEND US YOUR COMMENTS!
(So serious, write to me and tell me what you are thinking, I honestly want to hear from everyone!)
Don't forget to follow me and make sure you say Hello!
******************************************************************
AVERAGE BREWING INSTRUCTIONS:
These are common instructions for brewing teas, however if the company suggests other brewing I will include it in the review section.
Time and Temperature Guide:
Tea      Temperature Minutes
Black      95°C / 205°F 3 – 5
Oolong/White 85°C / 185°F 3 – 4
Green/Yellow 80°C / 176°F 2 – 3
Herbal/Tisanes.         100°C / 212°F 5 – 15
** As always stated by My Tea Vault, we think you should enjoy tea the way you like it, I like mine very strong with no sweetener, these are just guidelines and I suggest you use the guideline then adjust for your own tastes.