Wild Hibiscus Flowers in Syrup – Review
Tea Selection: Wild Hibiscus Flowers in Syrup
Company Name: Wild Hibiscus Flower Company
Location: Retail: North American – Richford, VT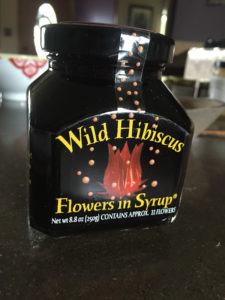 What Wild Hibiscus Flower Comapny says about themselves (taken from online source):
Lee and Jocelyn Etherington are the owner operators of Wild Hibiscus Flower Company and wear many hats across the business to ensure the highest quality products can be produced and delivered to you for your enjoyment and creative flare.
Made possible only with our much loved farmers to produce our premium flowers, our dedicated manufacturing team including Lee's two brothers who manage production, and our ever so fabulous operations teams and international distributors across North America, Thailand, Europe and the UK to bring our products to you in over 50 countries.
Many of our products including the Wild Hibiscus Flowers in Syrup and b'Lure Butterfly Pea Flower Extract are our own innovations and the first products of their kind on the market.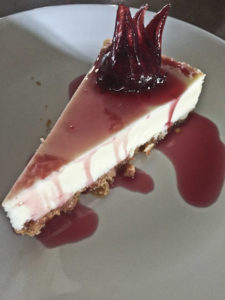 Read more about Wild Hibiscus Flower Company on their website: HERE.
What Wild Hibiscus Flower Company says about this syrup:
One of the most unique and special food products on the market.  Beautiful, delicious and versatile edible hibiscus flowers.  You will love the vibrant crimson color and mixed-berry type flavor.  Perfect for your next dinner party or special occasion (or just as an excuse to crack open the bubbly!).  Adds a touch of class to many food dishes, cocktails and other beverages.   With a long shelf life, keep a jar handy in your pantry.
INGREDIENTS:
Whole Hibiscus Flowers in Syrup
COSTS: $11.00 / 8.8 oz.
Price may vary according to the amount purchased.
MY REVIEW BEGINS
Here is what I think
I don't think I've ever eaten a flower before and I'll be honest, I thought when the label reads: "contains 11 flowers"  in my mind I felt there were going to be petals inside, to my surprise it was the full flower (as  you can see from the cheesecake image).
I took my first bite and it was great!  For me it had a more cranberry flavor, very sweet and soft.  The syrup is of course very sweet and on the cheese cake it was a perfect combination.
I later added some syrup to a Greek Liquor I had and it really gave it a different flare and was so enjoyable.
Next I added it to a black tea I had just reviewed and it really acted very much like a sweetener and gave the tea a very sweet, very light floral highlight.
I think I'll try ice cream and what about a hot biscuit. Experiment because it's really that good that you can use it on many different things and I can't imagine it being a bad move on anything.
Check out this recipe for adding the Wild Hibiscus to Champagne: Recipe
and this one for Wild Hibiscus and Apply Pastry Dessert: Recipe
there are many more recipes on their site as well.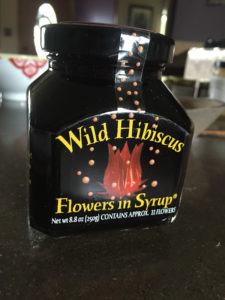 What I liked
It's really sweet and the syrup is not real thick and I liked that and when they say it is full of 11 flowers they are not joking, it has 11 full flowers in it and that was very surprising and refreshing, true advertising.
It is sweet however when  you add it to a cheesecake, drink or whatever it's not just sweet it adds a flavorful punch to the item it is mixed with.
The flowers are fun to eat and something really fun to share at a dinner party.  It's really quite a topic over dinner or drinks.
What I did not like
I really have nothing to not like, it's sticky but you get that with a syrup and it's just part of the package.
It's a great item and it will be something I will have around to add to my dinner party collection.
*_ *_ *_ *_ *_ *_ *_ *_ *_*_ *_ *_ *_ *_ *_ *_ *_
Until next sip pinkies up and face the wind! You got this!
Like us? Love us? Want a certain tea reviewed?
SEND US YOUR COMMENTS!