Wise Owl Teas | Okinawa | Tea Review
Tea Selection: Okinawa
Company Name: Wise Owl Tea
Location: Crystal Palace, London, UK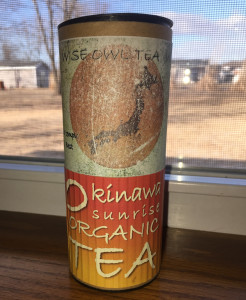 Tea Company Comments taken from their webpage:
Our story – Wise Owl Tea came about from a love of traveling to far off lands and experiencing local cuisines.
We are a couple of friends, who enjoyed traveling the world discovering how local people used herbal infusions for their health benefits, and developed an appreciation of the different flavors.
We brought home some ingredients, and what started as a labor of love in the kitchen developed into a small company producing organic herbal tea.  While collecting all the herbs we were reminded of the 18th century travelers sourcing the finest ingredients and returning to England by ship to sell their sought after prized goods.  This inspired us to develop our unique packaging showing old world maps of exotic lands that are the home of our teas, reminiscent of the old tea containers carried on ships.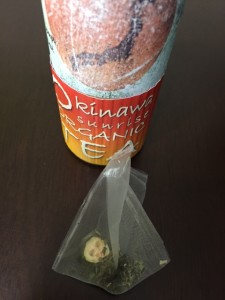 Personally:
You are going to have to read all the descriptions of the teas on Wise Owl's site. There is a whole lot of heart and soul into each tea and you are going to experience some flavors you never have. These teas are marginal in ingredients from lands you have not had a chance to visit and paired up with wonderful flavors for enjoyable scentsatons!
Read more about Wise Owl Teas on their website: Wise Owl Teas.
INGREDIENTS:
Orange Bitter Melon
Peppermint
COSTS: 5.50 £
Price varies according to how much you purchase.
REVIEW: One thing I like about Wise Owl Tea is their teas remind me exotic places and the fact that the inspiration of the teas and the products used are exotic and from the different areas just says a lot of the uniqueness of the teas.
Prior to brew:
Brewed: Light yellow hue
Scent: Mint/Citrus
Flavor: An amazing smooth flavor of citrus and mint.
Sentiments: I don't normally just love a tea right away but this tea is an exception, it's medium body yet such intense flavor that encompases all the senses. With the name "bitter" melon I would have expected a bitter taste, it does not exsist and I know the mixture of the peppermint helps. One thing I do not do is look over a tea before I taste it, I avoid knowing the ingredients so I can smell and taste without prejudice. This tea does it.
My Tea Vault score values of 1-10 (10 being the best): "9 "
Till next Tea….