Wotefusi – Double Walled Tea Infuser
Company Name: WOTEFUSI
Company highlights, notes and more:
CHONGQIN WORLD FIRST ELECTRONIC COMMERCE CO.,LTD. is located in Guangzhou city and as a leading manufacturer and exporter in the field of apparel in China.
Read more and visit the website: CLICK HERE.
~~~~~~~~~~~~~~~~~~~~~~~~~~~~~~~~~~~~~~~~~~~~~~~~~~~~~~~~~~~~~
TEA PRODUCT:
WOTEFUSI TEA TUMBLER
Cost: $27.99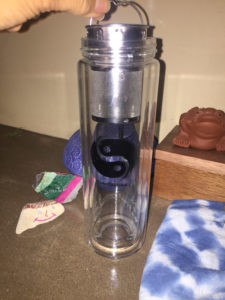 Interesting Highlights:
I love this screw in filter. It's really secure and holds in your tea leaves. I love that it's an absolute filter you can pour water on top and it flows through the filter and tea leaves into container. Simple and complete.
Review:
Wotefusi sent me this tea infuser to review and I have to say I really think it's a classy tea infuser. I love the idea of adding fruit to your infusion, brew your tea and add fruit to the mix. I can envision a lovely black tea with some blackberries floating around to add a wonderful real berry flavor.
Now, here is the deal, this Double Walled Bottle holds about 2 cups of liquid. The bottle itself is thick and quality when you hold it in your hands you can feel how sturdy it actually is.
The infuser screws together and is secure. The infuser strainer can hold an ample amount of tea and I like that for loose leaf teas.
The bamboo lid is a wonderful accent to give the bottle a bit of an tea inspired look as well as the feel of a real wood top.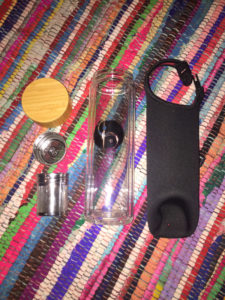 The container stayed very warm/hot for almost 2 hours and continued to be enjoyable at three hours and forty five minutes.
The neoprene holder helped keep the bottle insulated and the tea warm as well as a comfortable way to hold the glass bottle and drink from. Clip the neoprene "sock" and you have a nice and easy way to carry your new infused tea.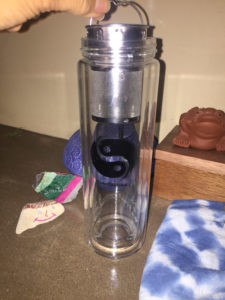 Sleek quality design that we have seen before with a few updates being the wonderful wood lid as well as the screw in infuser.
The other nice thing is if you want to drink your tea 4,5 or 6 hours later it is still very possible as the container keeps everything secure, it may no longer be hot however the beverage is still very enjoyable.
******************************************************************
I hope you all are enjoying and sharing our tea reviews. I love our tea loving community and as tea continues to grow and flourish so will our reviews. I plan on keeping us all informed on what is going on, what is new, what is bad and simply what is.
Please take a moment to sign up for our newsletter and follow us on Facebook, Twitter and Instagram. So much more to share and the newsletter gives us discounts, giveaways and tea company's inspirations. Don't be left out of our community.
Below I have included an instructional brewing chart to help you brew your teas.
Like us? Love us? Want a certain tea reviewed?
SEND US YOUR COMMENTS!
(So serious, write to me and tell me what you are thinking, I honestly want to hear from everyone!)
Don't forget to follow me and make sure you say Hello!
******************************************************************
AVERAGE BREWING INSTRUCTIONS:
These are common instructions for brewing teas, however if the company suggests other brewing I will include it in the review section.
Time and Temperature Guide:
Tea Temperature Minutes
Black 95°C / 205°F 3 – 5
Oolong/White 85°C / 185°F 3 – 4
Green/Yellow 80°C / 176°F 2 – 3
Herbal/Tisanes. 100°C / 212°F 5 – 15
** As always stated by My Tea Vault, we think you should enjoy tea the way you like it, I like mine very strong with no sweetener, these are just guidelines and I suggest you use the guideline then adjust for your own tastes.