Yogi Tea:GREEN TEA BLACKBERRY MORINGA, LICORICE MINT AND PEPPERMINT
Company Name: YOGI TEAS: GREEN TEA BLACKBERRY MORINGA, LICORICE MINT AND PEPPERMINT
You will find Yogi Teas Part Two HERE
I came to know Yogi teas from a need for dandelion tea during my first 15-day juice fast. I ran to the store; having no idea, saw Dandelion tea and from there my interest in this selection of teas started to grow. Yogi teas were the first teas I saw and one that I have enjoyed experiencing and trusting.
As most of you know I'm not a fan of tea bagged tea however, where else are you going to get such a fine array of teas that supply you with the herbals you need for certain situations? Nowhere and you can't immediately grow what you need so the herbal gods developed Yogi tea for us to go to, and you know what, I'm impressed and I can't wait to tell you about them.
TEA SELECTION: GREEN TEA BLACKBERRY MORINGA
Interesting Highlights:
Interesting tasting tea, blackberry adds a bit of sweetness to this tea.
Ingredients:
Organic green tea leaf
Organic cinnamon bark
Organic moringa leaf
Organic hibiscus flower
Natural raspberry flavor
Organic ginger root
Natural blueberry flavor
Organic blackberry
Organic Indian sarsaparilla root
Organic cardamom pod
Organic black pepper
Review:
Did you look at that list of amazing ingredients? No natural flavors and natural or organic ingredients. WOW. For me this tea was a bit more medicinal but still very good. This tea is full of antioxidants.
This tea reminds me of the cherry antibiotic you got as a kid except so much better. Herbal teas are interesting as they are such a lovely mixture of many ingredients that not always taste any one specific herbal ingredient.
There is so much good for you in this tea and nothing bad for you. You'll enjoy the berry flavor and know that you are drinking something pretty awesome and legit.
Cost: you are going to want to check your local stores
Price may vary according to the amount purchased.
~~~~~~~~~~~~~~~~~~~~~~~~~~~~~~~~~~~~~~~~~~~~~~~~~~~~~~~~~~~~
TEA SELECTION: EGYPIAN LICORICE MINT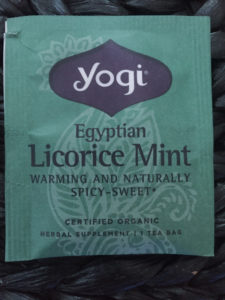 Interesting Highlights:
I love this tea, probably my favorite right now and I use it to curb my appetite when I'm hungry and to curb my sweet tooth. It works!
Ingredients:
Organic Peppermint Leaf
Organic licorice root
Organic cinnamon bark
Organic cardamom pod
Organic ginger root
Organic stevia leaf
Organic clove bud
Organic black pepper
Organic cinnamon bark oil
Organic cardamom seed oil
Organic ginger root oil
Review:
Egyptian licorice mint is a sweet tasting tea with no sugar added. It's got a mild little kick to it and I enjoy it, a lot! It's not a strong overpowering licorice taste but more of an interesting combination with mint, licorice as well as a host of other spices and that ginger gives it just a little kick. Great combination of spices and herbs, lot of good going on in this tea.
Cost: you are going to want to check your local stores
Price may vary according to the amount purchased.
~~~~~~~~~~~~~~~~~~~~~~~~~~~~~~~~~~~~~~~~~~~~~~~~~~~~~~~~~~~~
TEA SELECTION: PURELY PEPPERMINT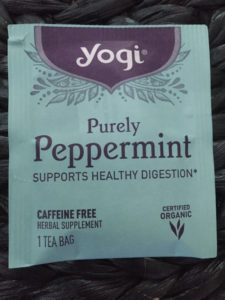 Interesting Highlights:
I use this tea any time my stomach is not calming down. It's also a great morning tea to wake up your taste buds and open your mind.
Ingredients:
Organic peppermint leaf
Review:
I use this tea often and when I don't have it, I go looking for it. This is a staple tea to have handle for so many different things. Calm your soul, clear your throat, and ease your stomach. It's a great taste and a pick me up with no caffeine.
You will want to keep this tea on hand (along with a few others) for medicinal and remedy desires.
I tell everyone if you have an upset stomach, try mint teas because it's natural and it works.
Cost: you are going to want to check your local stores
Price may vary according to the amount purchased.
~~~~~~~~~~~~~~~~~~~~~~~~~~~~~~~~~~~~~~~~~~~~~~~~~~~~~~~~~~~~~
SPECIAL NOTE:
One thing I do love about Yogi teas is their commitment to Ayurveda which is something I'm becoming very familiar with.
In general, our teas are formulated to be tridoshic, so that anyone can benefit from any given tea. However, some tea formulas are more directed toward one particular dosha. Depending on the dosha being targeted, we select ingredients that are known to reduce that particular energy in the body.
Below are examples of Yogi tea ingredients that reduce each dosha:
Vata: Cardamom seed and Haritaki fruit
Pitta: Amla fruit and Rose petal
Kapha: Black pepper and Eleuthero root 
Below are examples of Yogi teas recommended for each dosha:
Vata: Yogi Honey Lavender Stress Relief (vata can promote tension) and Yogi Bedtime (vata can promote occasional sleeplessness)
Pitta: Yogi Egyptian Licorice Mint (licorice and mints are cooling) and Yogi Skin DeTox (skin is a pitta organ, and this tea helps reduce heat in the body)
Kapha: Yogi Green Tea Energy (kapha can promote lethargy) and Yogi Breathe Deep (kapha can promote respiratory congestion)
By formulating our teas from a central base of Ayurveda, Yogi tea is able to bring the benefits of herbs from around the globe to you in a tasty, purposeful way.
To read and learn more about the doshas and what they mean, check out some entries from my blog series on the doshas:
Five Reasons to Love Each Dosha
Eat According to Your Body's Energies
Lastly one final thing I love of Yogi teas.  TEA TAGS!! I love that every detail, even the inside of the box is marked with a message.  So, I leave you with one final tea tag message for you to have and hold.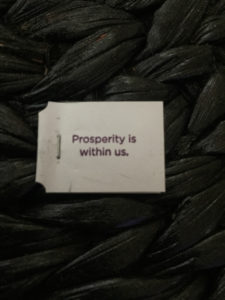 ~~~~~~~~~~~~~~~~~~~~~~~~~~~~~~~~~~~~~~~~~~~~~~~~~~~~~~~~~~~~
Company highlights, notes and more:
Our story began in 1969 when Yogi Bhajan, an inspired and inspiring teacher of holistic living, started teaching yoga in the West. He shared with his students the wisdom and knowledge of healthy living and the beneficial properties of herbs that he had mastered in India, all while serving a comforting and aromatic spiced tea they affectionately named "Yogi Tea."
Included in the recipe were five traditional Ayurvedic spices: cardamom seed, cinnamon bark, clove bud, ginger root and black pepper. When blended and brewed, these delicious and aromatic spices leave you feeling vibrant and alive, while supporting overall well-being. Intrigued by the complex flavor and inherent health benefits of this unique combination of spices, it wasn't long before several of the yogi's students were inspired to brew their own "Yogi Tea."
In 1984, this grassroots endeavor blossomed into the Yogi Tea Company. Packages of the dried spices began to appear in natural foods stores throughout Southern California and in Europe. By 1986, Yogi Tea was distributed nationwide in three flavors. As demand increased, the spices were more finely ground, packaged and sealed into individual tea bags.
Read more and visit the website: CLICK HERE.
******************************************************************
I hope you all are enjoying and sharing our tea reviews. I love our tea loving community and as tea continues to grow and flourish so will our reviews. I plan on keeping us all informed on what is going on, what is new, what is bad and simply what is.
Please take a moment to sign up for our newsletter and follow us on Facebook, Twitter and Instagram. So much more to share and the newsletter gives us discounts, giveaways and tea company's inspirations. Don't be left out of our community.
Below I have included an instructional brewing chart to help you brew your teas.
Like us? Love us? Want a certain tea reviewed?
SEND US YOUR COMMENTS!
(So serious, write to me and tell me what you are thinking, I honestly want to hear from everyone!)
Don't forget to follow me and make sure you say Hello!
******************************************************************
AVERAGE BREWING INSTRUCTIONS:
These are common instructions for brewing teas, however if the company suggests other brewing I will include it in the review section.
Time and Temperature Guide:
Tea      Temperature Minutes
Black      95°C / 205°F 3 – 5
Oolong/White 85°C / 185°F 3 – 4
Green/Yellow 80°C / 176°F 2 – 3
Herbal/Tisanes.         100°C / 212°F 5 – 15
** As always stated by My Tea Vault, we think you should enjoy tea the way you like it, I like mine very strong with no sweetener, these are just guidelines and I suggest you use the guideline then adjust for your own tastes.
SaveSave
SaveSave